'I Don't Care If You Hate Me!' Bristol & Ex Caught In Tense Exchange Over Custody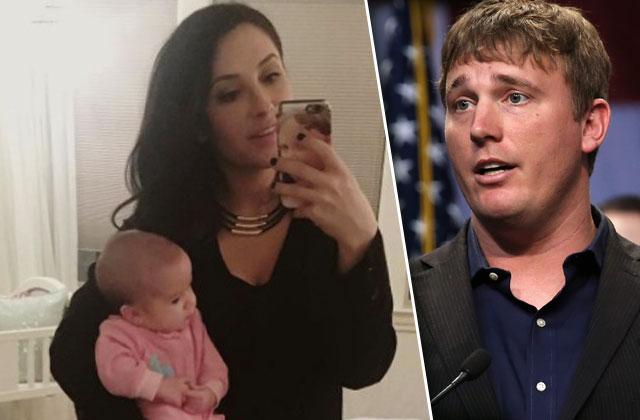 As Bristol Palin's custody battle with baby daddy Dakota Meyer over their newborn daughter Sailor Grace continues, recent text messages between the former couple have been exposed!
"I know you're busy but I'd even meet you somewhere, she changes so much everyday, I don't want you to miss anything," Palin, 25, wrote on January 18.
"Yea i don't want to miss anything either and being busy will never be what keeps me from seeing Sailor," 27-year-old Meyer responded. "Hopefully everything gets worked out soon and I can be in her life. "
Article continues below advertisement
"There's nothing on my end holding you back Dakota," Palin texted back. "I want you (and your family) to be in her life as much as possible. It's not about us, and I don't care if you hate me, put it aside and put her first. She grows everyday and everyday I literally just think about how much you're missing by not seeing her, so realize I'm not bs'ing you and want you to be a part of her life, from the bottom of my heart I do."
"I don't hate you Bristol I have no reason to but my hands are tied when I legally have no right to a child that is mine," her baby daddy said, laying down the hammer.
As Radar previously reported, Meyer filed an "emergency" motion on February 24 asking the court to finalize a temporary custody agreement for his daughter with Palin.
Unfortunately for Meyer, Palin already filed documents asking the court to allow her to live with the child in Alaska. Meyer lives on the other side of the country, in Kentucky, but Palin insisted she wanted to have final say in when he would see the baby.
New court documents obtained by The Daily Mail revealed that Meyer also asked to see Sailor away from Palin for four consecutive days, between March 19 and 22.
Bristol shut down the request, however, noting that a visit would interfere with her breastfeeding schedule.
"Ms. Palin is currently breastfeeding their two-month old daughter and plans to continue doing so until she is at least a year old," her official court response read. "It is in Sailor's best interest that breastfeeding continue and that Mr. Meyer's visitation be fashioned so that he may begin bonding with Sailor without disrupting her breastfeeding schedule."