'RHONY' Recap: Bethenny Frankel's Birthday Becomes Battleground For More Drama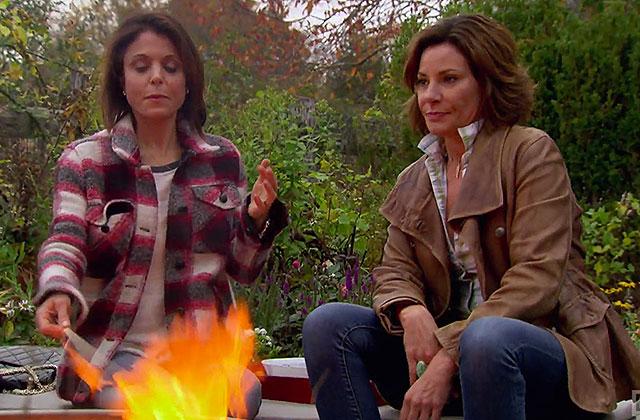 This week on The Real Housewives of New York City, Bethenny Frankel's Hamptons birthday bash is full of all the fall favorites: plaid, pumpkins, fire pits, and cool weather — but even the warmest of flannel couldn't prepare you for the frostbite from the Skinnygirl mogul's icy glare.
To say that Dorinda Medley's boyfriend, John Mahdessian, is an unwanted guest at Frankel's birthday party is an understatement. As she put it, "It's unimaginable that he would come today but somehow I know he will anyway. I don't think John ever misses the opportunity to do the wrong thing."
Article continues below advertisement
Meanwhile, Medley hoped that John would seize the opportunity to apologize for his aggressive behavior during last week's drama-filled bra party. Of course, his efforts made little difference, as Frankel avoided him at every turn.
"It's her opportunity to see him squirm and in some way she enjoys that," Dorinda explained of Bethenny's behavior, adding that John needed to "humble his ass and apologize without any added verbiage."
After finally working up the courage to face Frankel, Mahdessian delivered a sheepish apology. Though she accepted, the 45-year-old businesswoman also jumped at the chance to challenge his "uneducated" comments (i.e. challenging the integrity of her brand).
Mahdessian, unwilling to admit to his wrongdoings, replied with another slew of sorry's: "Again, last time I'm going to say it, I apologize for stepping out of bounds."
Article continues below advertisement
But he wasn't the only partygoer who felt the chill. Luann "The Countess" de Lesseps soon realized that she was no longer a part of the "in crowd" either.
"This will be the first time I've seen all the girls together in a while. I know things will be a little weird," she said in confessional.
Huddled between Bethenny and the cool girls, Carole Radziwill, kept her distance, waiting to reject an apology from de Lesseps. In an attempt to incorporate some fun into what Ramona Singer referred to as "the weirdest party ever," de Lesseps brought a hula-hoop along as some form of ice-breaker, swirling it very close to Radziwill's head in the process.
"It's embarrassing you're a grown woman. Leave the hoola-hoop at home," Radziwill scoffed. And she does have a point — with a puppy named baby and a 29-year-old boyfriend in tow, Radziwill knows childish when she sees it.
"I've buried the hatchet but Carole is still holding the hatchet...and running after me," de Lesseps concluded of her feud with Radziwill.
Instead of making another attempt at apologizing, de Lesseps chose to play defense. "What did I ever do to Carole?" she asked.
Besides calling her a "pedophile," Radziwill insisted that The Countess made up stories about her 29-year-old boy toy.
While de Lesseps insisted they both made many mistakes, Radziwill refused to concede. In the end, the pair agreed not be friends.
As for the last "sorry not sorry" apology of the night, Ramona Singer ran off to the city after telling Frankel: "I'm sorry Bethenny, this is one of the weirdest birthday parties I've ever been to. Everyone is off in their little groups. I'm so glad I have a date."