Exclusive
Abby Lee Miller's Bankruptcy Case — Shocking Salary Claims Revealed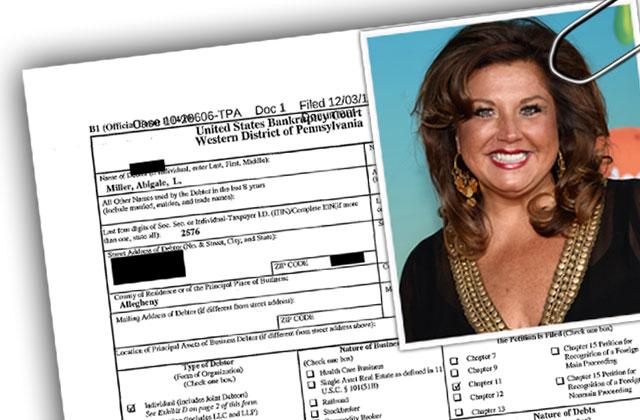 Abby Lee Miller still has yet to dig her way out of a federal bankruptcy fraud case, but as she continues to prepare for her trial, RadarOnline.com has learned about some shocking claims that she made in her initial bankruptcy filing.
According to court papers exclusively obtained by RadarOnline.com, the 49-year-old Dance Moms star claimed to be making a minimal salary when she filed for Chapter 11 bankruptcy on Dec. 3, 2010.
Article continues below advertisement
READ The Shocking Court Documents
When Miller initially filed, she said that she had a monthly income of $8,882.55.
In her December 2010 Small Business Monthly Operating Report, Miller also stated that her monthly expenses cost her $11,525.40, leaving her with a negative net income of over $2,600.
While Miller claimed to have assets and liabilities ranging between $100,001 to $500,000, she also claimed to have an "unanticipated expense of $6,025 to file for bankruptcy" and borrowed the money to do the filing.
She included that she had $3,088.13 in unpaid bills and $26,000 in local and school taxes owed.
On top of that, Miller alleged that her customers owed her $7,356.
In a section about the people who owed her money, Miller listed some of her former Dance Mom costars' parents as debtors.
According to the handwritten page, Chloe Lukasiak's parents owed her $500 and Brooke and Paige Hyland's parents owed $800.
Article continues below advertisement
In her own debts, Miller claimed to be in debt for over $3,000 for money she spent on costumes and a seamstress.
After nearly three years of bankruptcy proceedings, the court granted Miller a discharge from her Chapter 11 case.
But as RadarOnline.com previously reported, Miller pleaded "not guilty" to two counts of bankruptcy fraud, five counts of concealment of assets and 13 counts of making false bankruptcy declarations on Nov. 2.