Beckhams Split! Victoria Files Paperwork Proving Their Partnership Is Over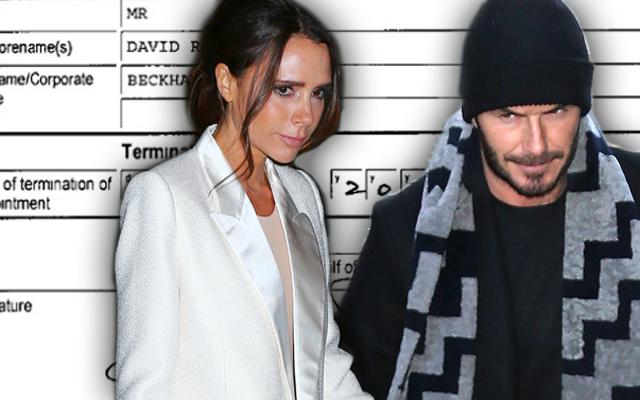 Victoria and David Beckham have been beset by divorce rumors for years, but new filings from Victoria's fashion company prove that their partnership is over once and for all — when it comes to her fashion line, at least.
Newly released Victoria Beckham, Ltd., filings obtained by RadarOnline.com reveal that after six years at the helm of VBL with Victoria and CEO Robert Dodds, David secretly resigned as a director of the company on December 10, 2014. On that date, the company's "entire issued share capital was transferred to" VBL parent company Beckham Brand Holdings, Ltd., and reissued with 1/3 going to Victoria, 1/3 to David, and 1/3 to Dodds.
Article continues below advertisement
Documents filed in the UK also note that on that date, all "contracts held by the company related to the David Beckham brand were transferred during the year to DB Ventures Limited, a sister company" that is specifically "focused on exploiting the David Beckham brand," without Victoria, 41.
DB Ventures is also a sub-company of Beckham Brand Holdings, of which Victoria and David, 40, are both directors and shareholders. According to the most recently filed documents, each of them owns 1/3 of BBH shares, individually, and Dodds owns 1/3 as well.
Now, VBL is all about Victoria alone, but that doesn't mean she's going it solo just yet.
While she "has not disclosed transactions with the ultimate parent company," Beckham Brand Holdings, the 2014 filing reveals that at the time, she owed $9,959,787 (£ 7,033,944) to "group undertakings" — nearly half of the company's total $21,806,237 (£15,421,710) debt to creditors.
And that was a massive uptick from 2013, when VBL owed "group undertakings" just $15,324 (£10,838).
Article continues below advertisement
The total profit for 2014 was $1,743,130 (£1,232,791).
David's departure from VBL represents just the latest of the couple's quiet capital moves, adding fuel to the fire of divorce rumors.
In May 2014, the couple sold their notorious "Beckingham Palace" estate in Hertfordshire. Then in August, 2015, it was their Madrid mansion that sold. And in October, 2015, they sold off their French villa on the Cote d'Azur.
At the time, a neighbor told the Mail on Sunday, "They are never here any more."
In February, OK! magazine claimed that the couple were "figuring out their exit strategies" in preparation for a divorce, a report David's rep called "100% fiction."
Reps for Victoria, David, and VBL did not respond to RadarOnline.com's request for comment.
Story developing.