Texas Pianist Family Murders: Horrific Crime Scene Details Exposed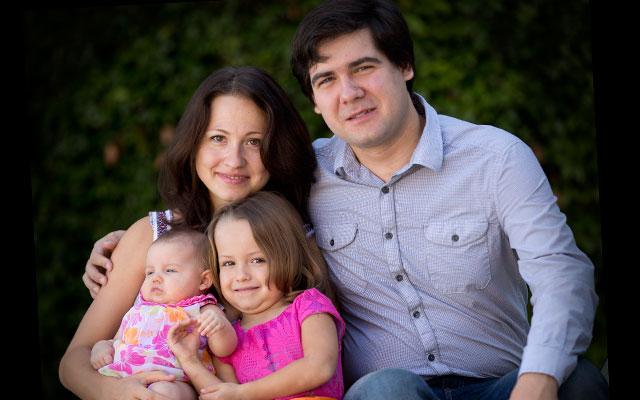 Warning: Graphic content
Ukrainian pianist Vadym Kholodenko's estranged wife is currently in custody after being charged with murdering their two young children in the family's Forth Worth, Texas, home. Days earlier on March 17, cops arrived at the home to discover a graphic and disturbing crime scene, RadarOnline.com can exclusively reveal.
Kholodenko called the cops, who were dispatched to the house at 9:27 a.m., according to Sofya Tsygankova's arrest affidavit.
Article continues below advertisement
READ THE SHOCKING COURT DOCUMENTS
The famous musician, who was notably shaken, said that when he came home, "his wife was going crazy and she had blood on her."
Officer Wallace entered the bedroom and noticed Tsygankova "kneeling on the floor, just inside of the doorway...Tsygankova was rocking back and forth making noises," the documents state. "Officer Wallace was unable to understand what she was saying."
"Tsygakova was wearing a mid-length nightgown covered in blood."
The blood on her nightgown appeared to be from her self-inflicted stab wounds, authorities noted.
"Officer Wallace observed blood on both her arms as well. Officer Wallace noticed a cut inside of her left wrist. Officer Wallace noticed a puncture wound on Tsygankova's chest, near the inside of her chest," the affidavit read.
While cops responded to the call on a "welfare concern," they soon discovered that the scene was much more horrific than they could have imagined.
Article continues below advertisement
"Officer Wallace noticed a child lying on the master bedroom bed. The child was later identified as Michela Kholodenko….Michela was lying on her back, and there was a light colored fluid running out of her mouth. Officer Wallace checked the child for a pulse and was unable to locate one," the document said. "Michela was very cold to the touch and appeared to have signs of rigor mortis. Michela was fully dressed."
In the master bedroom, Michela, 1, was found with a matching brown pillow "partially resting on her head."
Wallace then checked the other bedroom and discovered 5-year-old Nika Kholodenko, who was dressed in a striped onesie, dead as well. Next to her the officer found a brown pillow with a small stain.
"The pillow had a slight indentation on the top consistent with the size of a small head. There appeared to be a small spot of biological fluid as well," it said.
Article continues below advertisement
Outside the home, officers observed a 2014 grey Ford Focus in the garage. Inside, they found the same brown linens from the master bedroom covered in blood.
There was also a red suitcase that officials believe was used to lodge a rag into the car's exhaust pipe.
While there was "large amounts of blood" in and around the car, cops reported that that there was much more inside the home and on the patio.
They also discovered several knives.
"Sgt. Van Ness located a large butcher knife near the edge of the patio, obscured by the branch," officers wrote. "The butcher knife had blood on the blade and handle."
Cops discovered more blood in the kitchen along with an empty bottle of Quetiapine—a medicine commonly used to treat bipolar disorder, schizophrenia and depression.
In the master bathroom cops discovered a cleaver-style knife and three more prescription bottles in Tsygankova's name.
The mother of two was taken to a hospital where she told officials that she remembered taking the pills and cutting herself. At some point she stated that she "didn't want to live."
While Tsygankova did confirm that she was the only one in the home with the kids during that evening, she couldn't remember much else.
During an interview she asked if she did anything "bad" to her children.
As RadarOnline.com previously reported, the accused killer underwent a mental health evaluation following the murder charges.