She Threatened To 'Bash My Brains!' Chrisley Relative's Harassment Case Exposed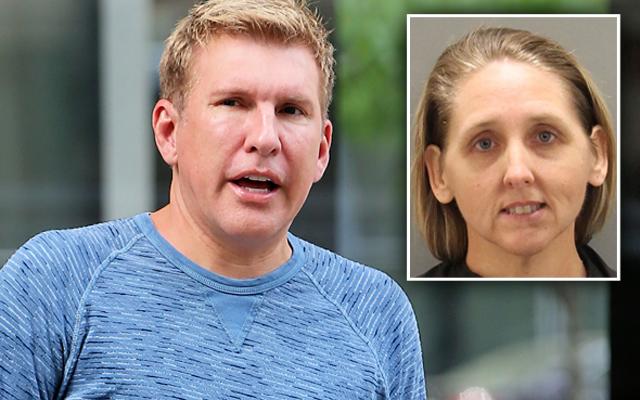 Chrisley Knows Best star Todd Chrisley's most explosive family drama yet is happening off-camera! RadarOnline.com has learned that the reality star recently filed jaw-dropping court documents claiming his sister-in-law threatened to kill his mother Faye by "stomping on her face!"
As Radar reported, the wife of Todd's brother Michael, Pamela Chrisley, was recently arrested for harassment after allegedly trying to extort money from the wealthy family. But Todd and Faye have told the court it was even worse than that.
Article continues below advertisement
READ THE SHOCKING DOCUMENTS HERE:
In Faye Chrisley's affidavit filed on Feb. 24, the elderly mother to Todd and grandmother to Savannah, Chase, Grayson, Lindsie and estranged grandson Kyle, wrote:
"Pamela demanded that I deposit monies into her account or according to her, 'She was going to destroy my family.' She also sent me text messages threating to 'bash my brains' if she caught me in town."
"She has continued to post negative comments and lies about me on various social media outlets including Facebook," the affidavit continues. "She has continued this harassment through phone calls, text messages, and Facebook postings. She has also conveyed to Randy on numerous occasions that she would never stop until either my son, Todd, Or me paid her $100,000.00. Based on these threats, I am afraid for my personal safety and afraid to go to my own home to visit my son and grandchildren."
One week later, the Chrisley Knows Best patriarch filed a separate affidavit to the same court, seeking a restraining order against Pamela after similar threats allegedly were made.
Todd exclusively told Radar, "The reason that I got involved in all of this is because she threatened physical harm to my mother. My mother kept it a secret. Pamela also told me that she wanted $50,000 in 72 hours or that she was going to hurt me."
Article continues below advertisement
As Radar previously reported, Pamela was taken into custody on Friday, March 4, where she was charged with second-degree harassment. She was released later that same day on $11,000 bail.
According to her bail agreement, Pamela can make "no contact with victims for any reason or by any means, directly or indirectly," and "no electronic communications of any kind."
Todd told Radar, "I do not know Pamela and I will fortunately never have to. She threatened my family and tried to extort money from us. No one, I repeat, NO ONE, disrespects or threatens my family without having to pay severe consequences."
Story developing.
Do you think that Pamela Chrisley should have been released on $1000 bail? Tell us your thoughts.