Exclusive
Chrisley Divorce Shocker! Find Out Who Filed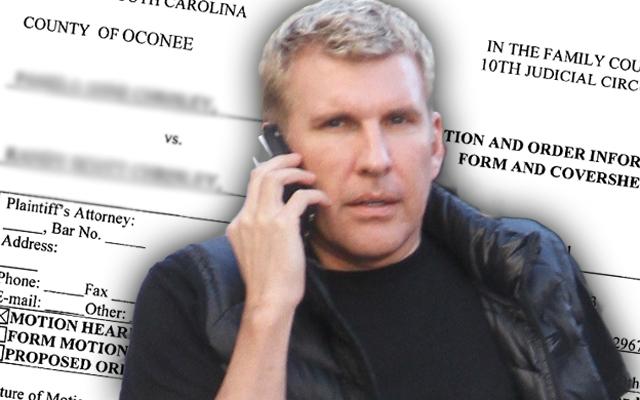 Chrisley Knows Best star Todd Chrisley unleashed an online tirade against his sister-in-law Pamela Chrisley this week for allegedly trying to extort money from him and his 72-year-old mother, Faye. But RadarOnline.com has learned the biggest bombshell was yet to come: a secret divorce filing!
Todd's own relationship with wife Julie is still going strong, but Radar has learned that the sister-in-law at the center of his scandal wants out of the Chrisley family.
Article continues below advertisement
Pamela, 43, married Todd's younger brother Randy less than two years ago. On March 4, as Radar reported, she was taken into custody and charged with second-degree harassment in connection with the alleged extortion attempt against Todd.
Only days later, Radar has learned, she secretly filed for divorce on March 9, in Oconee County South Carolina. And it's already messy!
Randy signed off on a motion asking the court to bar Pamela from "harassing, bothering, harming, or interfering" with "any member of the Chrisley family." In addition, he wants her barred "from discussing the Chrisley family and the pending litigation on any media, including but not limited to any social media."
He claimed that the couple has been separated since October 25, 2015.
Todd, for one, would certainly like her out of the family.
The devoted husband to wife Julie and father of Savannah, Chase, Grayson, Lindsie and his estranged son, Kyle, claimed in court documents that Pamela exhibited a "pattern of criminal conduct."
As Radar reported, his mother Faye's claims were even worse! In an affidavit filed by Chrisley family matriarch, the elderly woman stated:, "Pamela demanded that I deposit monies into her account or according to her, She was going to destroy my family.' She also sent me text messages threatening to 'bash my brains' if she caught me in town."
Article continues below advertisement
Todd told Radar, "After Pamela threatened harm to my mother, I called Pamela and said something along the lines of, 'Listen to me you godd**n motherf***er. If you so much speak to my mother or anyone in my family again, there will be hell to pay.'"
Todd also claims in the affidavit that he is preparing a civil suit against Pamela that will allege "slander, defamation of character, and torturous sic interference with business."