'Teen Mom' Tantrum! Leah Messer Rips MTV In Epic Twitter Meltdown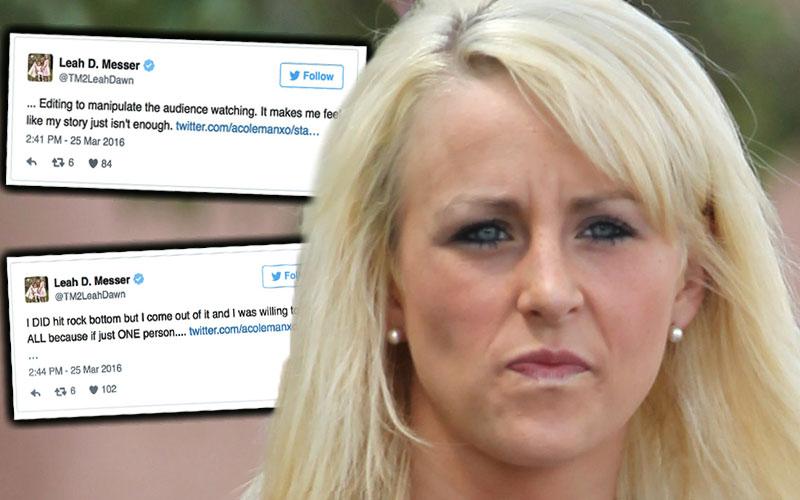 Leah Messer is speaking out against MTV for what she insists is a negative and inaccurate portrayal of her life as a mom.
"It's so sad how the person behind the editing can even live a happy life by editing to manipulate the audience watching," she blasted on Twitter of the Teen Mom 2 premiere. "It makes me feel like my story just isn't enough."
As RadarOnline.com reported, Messer, 23, appeared cold and callous on the reality show when she refused to feed her hungry, crying 6-year-old twins, Aleeah and Aliannah, before they drove off to school.
Article continues below advertisement
"I'm cold and I don't have nothing to eat," sobbed Grace in the car. "You never get us up for breakfast!"
Messer also opened up in her Twitter rant about going to treatment for depression and other issues.
"I did hit rock bottom but I came out of it and I was willing to air it all because if just one person watched and reached out for help even when they feel so alone that's all I cared about because I could never imagine anyone feeling the pain, hurt, depression and anxiety that I was suffering from. It would break my heart!" she tweeted, before taking another jab at MTV.
"I wanted to bring awareness and help others and if MTV couldn't share that then I will do it on my own the way God wants me to!" she wrote. "It hurts to feel betrayed by the ones I thought I could trust with my story."
"It goes to show you how 'The Entertainment World' really is and I guess everyone will see where I really am."