Exclusive
'Sister Wives' Fakery! Kody & His Wives Faked Storylines For Ratings, Relative Says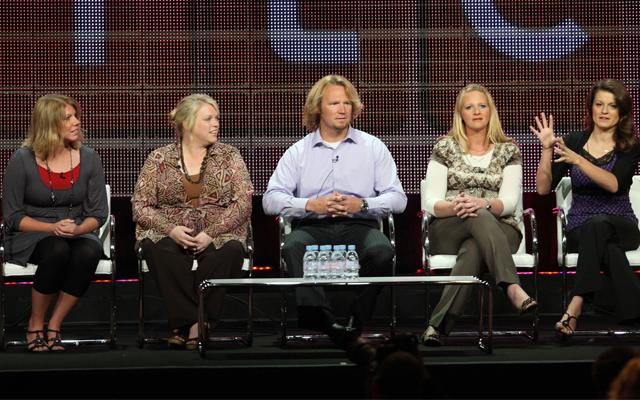 The Kardashians aren't the only ones who know how to make the most of their reality for TV ratings! The polygamous Brown family, Kody and his four wives, shot to fame when their unconventional family starred on Sister Wives, but RadarOnline.com has exclusively learned that one of their relatives says their religious drama was all for show.
The TLC series began when the family lived in Utah, and they revealed their big secret to the world: that Kody and Meri Brown were the only legally wed pair, while the other three wives, Janelle, Christine and Robyn Brown, were all just his "spiritual wives."
Article continues below advertisement
Drama increased on air when the family revealed that the state, where polygamy was legal in the past, was planning to prosecute them for their illegal marriages. So they announced that they were moving to Las Vegas, and amid the drama the ratings shot up.
Christine's aunt, Kristyn Decker, who appeared on Sister Wives told RadarOnline.com that she believed that the family played up that scandal for ratings.
"They talked about moving to Vegas to escape Utah's anti-polygamy laws long before they did," she revealed. "That was their plan and they used the State coming after them for ratings. That's my strong opinion."
Decker left her own husband and the Apostolic United Brethren polygamist sect of the Latter Day Saints that the Browns belong to, and Christine attacked her during her time on the show.
Decker called the on-camera outburst "very offensive," and said she had her own reasons for leaving her marriage.
"My leaving definitely had to do with my husband's behavior, but it was all the harms I saw around me," she said. "I left polygamy before I left my husband."
Article continues below advertisement
"I really regret being on the show. … After I was devastated, I cried. Christine tried to make me out to be a mean person who didn't believe in choice, either traditional or religious. You can't actually have a choice if you live under polygamy. If you chose not to do it, there is a penalty."
Indeed, the Browns are embroiled in a lawsuit with Utah to legalize polygamy, and Decker revealed her lingering resentment against the family for their decision to announce the case the weekend before Christmas.
"All of us keep wondering why they're doing things so underhandedly, instead of giving a voice to the people in Utah," she told RadarOnline.com.
Decker, the founder of Sound Choices Coalition, explained that the failure of the State Legislature to pass HB281, a bill that would classify polygamy as "criminal," was a setback for the movement against polygamy.
"The harms are endemic within polygamy," she said, speaking for her group. "We believe in choice. We don't see polygamy the way it is lived as a choice."