Exclusive
Will The Real Drita Please Stand Up? Karen Rips Costar's 'Snake Moves'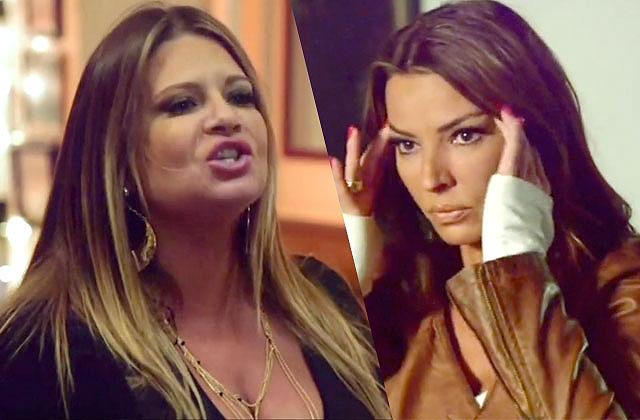 This Mob Wives war has been raging ever since season one aired on VH1—and now, even though the series is coming to an end, RadarOnline.com has learned Karen Gravano and Drita D'avanzo's feud will not die down with it.
In the series finale, the two enemies tried to confront each other one last time, but were held back by an on-set security team when the fight almost turned physical.
According to Gravano, D'avanzo, 40, hyped up the final sit-down to make the finale more interesting.
Article continues below advertisement
"Drita does everything for theatrics on TV," Gravano told Radar. "She said she wanted to call that meeting to prove I'm lying, but yet didn't want to sit down at the table and speak about anything because she knows that I never brought up anything about men."
Gravano, 43, claims that D'avanzo knew she wouldn't be able to throw up her fists one last time.
"Prior to even going in there, our producers told us that we weren't going to be able to make a move without security holding us down," she explained. "We were at a long table so that we couldn't even reach each other. So all of that 'rah rah' she was doing about fighting, she knew it couldn't even happen."
Sammy the Bull's daughter reports more happened during that day of filming then was shown during the finale.
"What you didn't see is she went in the back and refused to come sit back down at the table with me," Gravano said.
Gravano is now hoping that the reunion—which airs on March 16—will broadcast the extra shots.
"Hopefully the reunion shows a lot of behind-the-scenes footage that will make you understand more about her snake moves—like when I came back in season five, she started crying that she couldn't work with me because she was scared of my father," Gravano said. "Another example is when Carla Facciolo came back at the end of season five, Drita ran to production and quit the show temporarily."
Article continues below advertisement
According to Gravano, D'avanzo acts differently for the cameras than she does off-set.
"The Drita you see on camera is very different from the behind-the-scenes Drita, and I'm hoping at the end, she will finally be exposed!" she said.
As Radar previously reported, newcomer Brittany Fogarty, 25, sided with D'avanzo against Gravano this season.
"My relationship with Karen Gravano is dead," Fogarty told Radar during a video interview. "I don't think Karen and I will ever be on good terms."
Gravano feels the same way—she has no interest in wasting her time on fixing her relationship with the blonde beauty.
"As far as Brittany is concerned, she's a irrelevant," she said. "She'll do anything to try to gain fans. I don't even feel like she's worth my breath."