'Mob Wives' War! Brittany Warns Drita Can 'Beat The S***' Out Of Karen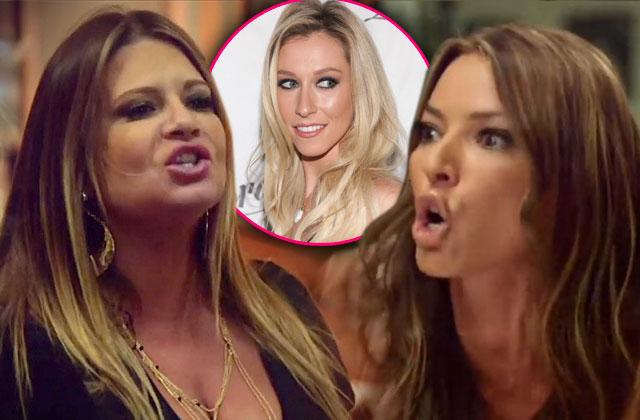 In the wake of Angela "Big Ang" Raiola's death, Mob Wives has continued on—and with it, the never-ending drama between Drita D'avanzo and Karen Gravano.
During the series finale on March 9, the woman had one final on-screen battle, only to have security guards restraining them from a full-out brawl.
"I think if we weren't on a show, it would be settled in real life," their costar Brittany Fogarty told RadarOnline.com during an exclusive video interview. "I think that you keep seeing the drama between Drita and Karen and there's these fights, but they're never really fights."
Article continues below advertisement
According to Fogarty, the show restricts the fights from getting worse.
"We have this entire crew around us when this fight is happening, and there's security holding us down and separating us and holding us apart from each other," she explained. "So in real life, I think Drita would have beat the s*** out of her already. But there's security to protect her, so she can say whatever she wants."
Even though the show is coming to an end, Fogarty doesn't think that Gravano and DAavanzo will ever stop fighting.
"I don't think that you can settle problems with somebody like Karen Gravano," she noted.
According to Fogarty, Gravano has no sense of propriety.
"There's boundaries in life and there's a certain line that once you cross it, there's no going back, and she's crossed that line multiple times," the 25-year-old blonde beauty said. "She's just crossing it, crossing it, crossing it, and how can you ever expect to be cordial with a person when you've made up stories about not only her, but her husband, and now her daughter? It's just disgusting."
Article continues below advertisement
Clearly, Fogarty isn't a fan of her 43-year-old costar.
"My relationship with Karen Gravano is dead," she stated. "I don't think Karen and I will ever be on good terms."
"I think again she's crossed a line," Fogarty continued. "You're talking about somebody who constantly preaches, 'Don't talk about family,' but the second she didn't agree with who I befriended, she started talking about my family."
Fogarty is still shocked that Gravano took it to that level.
"I felt like out of all the people, it was most wrong of Karen to do given our family history, given that she's constantly scrutinized for her family, and given that she preaches so hard about 'family's off limits,'" she said. "There are things you say and you can't take back. You put it out there. You made your bed. Lie in it!"
But while on the outs with Gravano, Fogarty remains close to D'avanzo, 40.
"I love Drita," she shared. "I am actually very glad that everything happened the way it happened. I went through a lot of bulls*** with the women. I don't think that people really understand how much easier this season would have been for me with the other women if I would've simply pretended not to like Drita. But I'm not a phony. I did like her."
"To me, Drita's like one of the realest people," Fogarty concluded. "I'm glad that we came out of this with a solid friendship."