'Married At First Sight' Scandal: Samantha Role's Shocking Drug Arrest History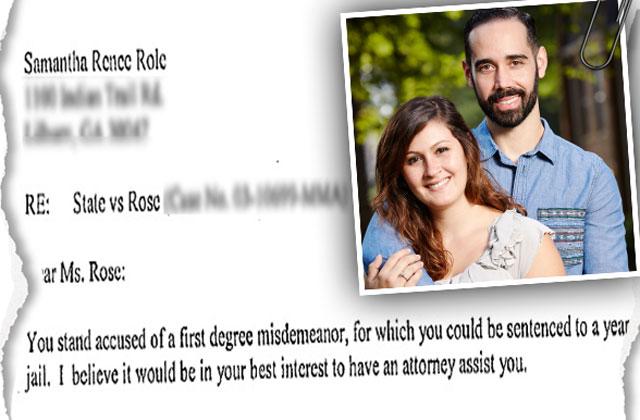 Long before Samantha Role wed a stranger on Married At First Sight, the FYI reality star was making other highly questionable decisions. But as a young woman, her big mistake placed her behind bars!
While on a 100 mph joy ride with her boyfriend, Role was pulled over and arrested for drug and paraphernalia possession, RadarOnline.com can exclusively reveal.
In Florida highway patrol documents obtained by Radar, cops said they spotted a white vehicle driving "at a very high rate of speed" at approximately 11 a.m. on August 8, 2003 in Naples.
Article continues below advertisement
THE PROOF! READ THE SHOCKING POLICE PAPERS
According to the responding officer, Scott McAlister, then 20, pulled over to the shoulder of the road.
"As he stepped out of the vehicle, I could smell a strong odor of marijuana coming from inside the vehicle," Officer John Pyne wrote, adding that McAlister confessed to toking up earlier that morning.
When asked if there were any drugs in the car, the man pointed at his passenger, Samantha Role, who was then a 19-year-old college student.
"She appeared very nervous and could hardly speak," Pyne claimed. "I asked Role is there was any marijuana inside the vehicle. Role stated, 'No, I mean, yes. I don't want to lie to you.'"
The officer said she then handed over a container with 2 grams of marijuana and a marijuana cigarette.
Upon further inspection of the vehicle, Pyne discovered two pipes, rolling papers, a lighter, and another marijuana cigarette. Role confessed that the drugs and paraphernalia all belonged to her.
Article continues below advertisement
She was promptly placed under arrest.
Days later, Role begged the judge for mercy in a letter— and revealed that her 12-year-old brother was in the car during the drug arrest!
"I am so ashamed of what I did," she wrote. "I was selfish and I ruined my brother's vacation."
She asked if she could skip her court date and instead pay a fine in the mail, since she was a student in Norcross, Georgia, approximately nine hours away from Naples by car.
"I also have a job that I work at every day during the week from 11:00 to 3:00 and school from 3:30 until 8:10," she complained. "I do all this only to wake up the next day and do it all again."
The judge ignored her request, and warned her that she faced a year in jail for her misdemeanor charges.
Role pleaded not guilty to possession of marijuana and possession of paraphernalia, but eventually agreed to participate in a Deferred Prosecution Program, in which offenders must complete community service hours and substance abuse education in order to avoid jail time or other much more harsh penalties.