Exclusive
Little Marco's Shame: Dominatrix Selling Bombshell Story About Night With Rubio!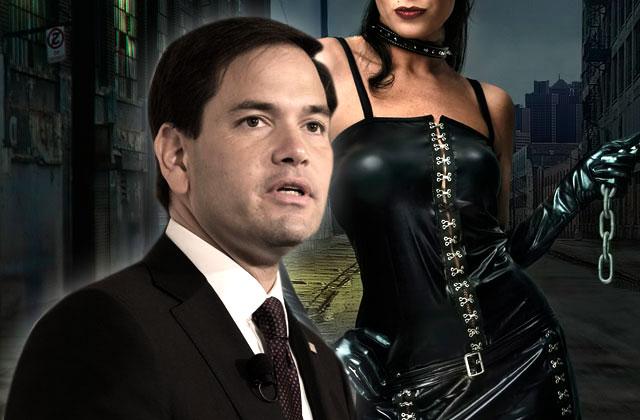 Today's Florida primary was supposed to be a bright spot in the failing campaign of presidential candidate Marco Rubio. But RadarOnline.com has learned that it could be the day his Oval Office hopes are destroyed once and for all!
According to multiple political insiders, a professional New York-based dominatrix has been quietly trying to sell a bombshell story about her alleged raunchy sex romp with Rubio, who she claims is a kinky S&M freak.
Article continues below advertisement
The woman, a notorious dominatrix in the seedy world of sordid sex, has approached at least one major mainstream media outlet with the claim that she shared an X-rated night with Rubio for a hefty cash payment.
According to the sex worker, she was contacted by Rubio, 44, who called himself "Marc," after posting an ad online. They later rendezvoused at a luxurious Manhattan hotel.
"The details of their over-the-top kinky night of leather and other kinks could be revealed if true, and if the woman can come to a deal with a buyer," an insider told RadarOnline.com.