Jennifer Lopez Slams Ex-Fiancé Ben Affleck's Phoenix Back Tattoo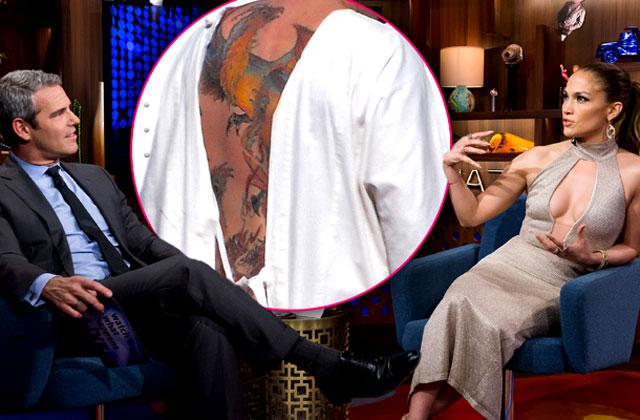 The days of "Bennifer 1.0" are long gone and Jennifer Lopez is not afraid to play hardball when it comes to Ben Affleck.
The 46-year-old got very honest about her ex-fiancé on Watch What Happens Live Monday, telling host Andy Cohen how much she hated Affleck's larger-than-life phoenix back tattoo.
"It's awful! What are you doing?" Lopez said during the Plead the Fifth segment. "His tattoos always have too many colors, they shouldn't be so colorful. They should be cooler."
Article continues below advertisement
Affleck's enormous new ink made its first appearance in December, while the 43-year-old was on set for a film.
Watch the Video on RadarOnline.com:
As for other ink, the Batman star also has a dolphin on his right hip to cover up the name of his high school sweetheart, a large skull and crossbones design on his right arm, script on his shoulder blade, among other indecipherable tats.
Affleck and Lopez became engaged in 2003, after starring together in the 2002 film Gigli.
However, just four days before they were set to wed, the couple postponed the ceremony, citing "excessive media attention." Months later, they officially called it quits.
Now, Affleck has said goodbye to "Bennifer 2.0," announcing his split from wife Jennifer Garner this summer after 10 years of marriage and three children together.
As Radar reported, Garner recently spilled marriage secrets to Vanity Fair about her husband's relationship with their children's nanny, Christine Ouzounian.
"The Vanity Fair interview sent him and his team over the edge," an insider said of the whole thing. "He feels like she completely attacked him and can't believe she confirmed the nanny affair story."