'Teen Mom' Bombshell! Jenelle's Ex Rips Her In Explosive Custody Claim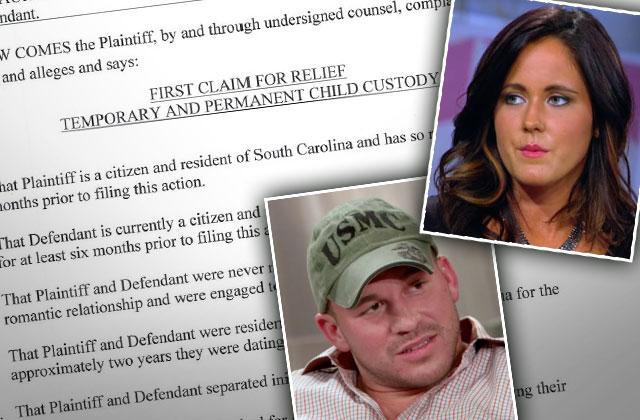 Jenelle Evans's custody battle against her ex Nathan Griffith just exploded!
RadarOnline.com has exclusively learned that following the 24-year-old Teen Mom 2 star declaring to the court that she wants to seek full custody of her 1-year-old son Kaiser, her former fiancé and the baby's father Nathan Griffith filed a motion of his own on March 15 to get "permanent primary custody"—and Griffith lays out quit the fight to declare Evans an unfit mother.
Article continues below advertisement
In the court papers (which are public record) obtained by Radar, Griffith claims that Evans has prevented him from seeing and speaking to his son since they broke up in September—except for one occasion in October 2015 and another in January—and that she has changed her number so that he can't reach them.
During the January visit, Griffith, 27 says after driving several hours to see Kai, he only got to spend thirty minutes with the baby and that Evans's boyfriend David Eason supervised the visit.
Griffith alleges that Evans is upset with him for taking Kai out of the state on a vacation without her permission, but that she does so without his permission often.
He also says that Evans will call him from a blocked number occasionally "to instigate conflict" and that she uses her boyfriend as an "intermediary" to communicate with Griffith on all other occasions.
Griffith doesn't approve of the fact that his son lives with Evans and her Eason, who he claims "has a existing Domestic Violence Protection Order restraining him from contacting the mother of his own children" and that a judge found that Eason "had committed acts of domestic violence" against his ex while she was pregnant.
Article continues below advertisement
He cites the allegations that Eason's ex made in the DVPO, claiming he had choked her and followed her.
In another case Griffith claims that Eason's ex was awarded custody of their son; he claims it was shown that Eason almost overdosed by mixing alcohol and prescription meds; that when his ex was 7-months pregnant, he left her on the side of the road; and that Eason used marijuana with his father and step-mother.
In that same case, Eason's ex alleged that in October 2013, he "pushed her resulting in her falling to the floor." She was 8-months pregnant at the time, and she "learned that she had started having contractions," the documents state. She claimed she had to stay in the hospital for two days, and doctors had to stop her from going into early labor.
During another episode in April 2014, Eason allegedly entered their bedroom around 4:00 am, woke her up and "threatened to kill her."
Article continues below advertisement
Eason also supposedly sends Griffith "inappropriate electronic text-messages," according to the filing.
Griffith notes the assault charge pending against Evans stemming from when she allegedly threw a cup at his girlfriend Jessica Henry.
Griffith also alleges that Evans and Eason use Kaiser as leverage, claiming that they will allow Griffith to see Kai if he can get Henry to drop the charges.
According to the papers, Evans "fancies herself as a celebrity of sorts" and often leaves Kaiser with her former roommate Victoria Rhyne—who "has bragged about using illegal drugs"—and with Eason's family members.
He mentions that Evans's first son Jace, 6, currently lives with her mother Barbara, that Barbara has had custody of the boy since his "infancy," and that Evans is again fighting to get Jace back.
Griffith brings up the alleged car theft incident—where Evans claimed that he took their car and stole $1,000 of her person—but defends that he was on the title of the car, paid the bills for it, and that he offered to return all of her personal belongings.
Article continues below advertisement
Outside of Teen Mom 2, Grifith asserts that Evans's isn't currently employed even though she has gotten a certificate in medical assistance and that Eason is not employed either.
Griffith, on the other hand, plans to complete his associates degree in the Fall, is "employed by a professional indoor arena football league," and gets disability for the Marines.
He declares that Evans bashes him on social media saying he "does not care about his minor child" and is "abusing steroids."
He cites that Evans admitted to using marijuana on the show The Doctors for a long time before recently quitting.
The papers include mentions of Evans's stint in rehab, multiple run-ins with the law, and her admitted heroin addiction in the past.
Lastly, the papers allege that Eason shared a video on social media where he was instructing Kaiser to call him "dada."
Griffith maintains that he's a "fit and proper person to have primary custody," but is asking the court to decide on Evans's visitation rights.
He is also demanding that Evans "should be required to pay the expense of this suit."
As Radar previously reported, Evans and Griffith are scheduled to meet in court Monday for a mediation orientation concerning their custody war.