$13B Divorce! Tesla CEO Elon Musk's Wife Files For Divorce & Is Coming For His Cash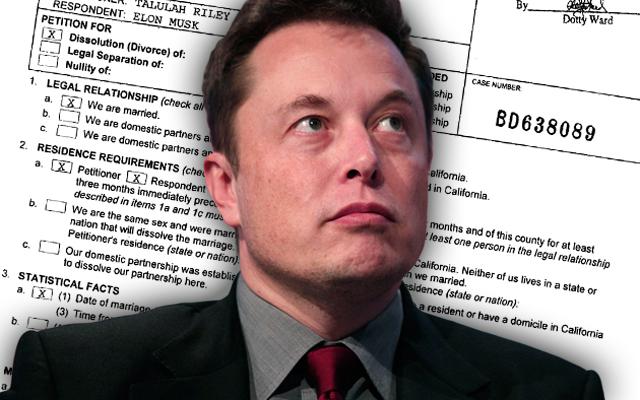 Most people fight over houses and cars in divorce proceedings, but will Elon Musk's wife be going after rocket ships and robots? The Tesla founder's wife, Talulah Riley, filed for divorce today in Los Angeles, and RadarOnline.com has learned she is asking for a cut of his money.
Riley, 30, and Musk, 44, have had a rocky couple of years. They first wed in 2010, and divorced in January, 2012. They married again in July, 2013, but then he filed for divorce on January 1, 2015. At the time, his filing said that he would give her $16 million in cash as per a prenuptial agreement that they had signed. However, that divorce was dismissed in April and there's no mention of a prenup in the new paperwork filed by Riley today.
Article continues below advertisement
READ The Bombshell Divorce Documents
Riley, who had no children with billionaire Musk, states that she wants spousal support, as well as attorney's fees.
She asked that she be able to file a determination of the couple's joint assets at a later date, and made it clear that money issues will be at the center of their fight with an unusual attachment.
Riley's attorney asked the court to issue her a Statement of Decision "with respect to any contested issue submitted to the court for determination" throughout the divorce. (A Statement of Decision is a thorough explanation of the reasoning behind a court's ruling.
Specifically, she asked for explanations relating to "any and all calculations" for "issues of spousal support, property valuation, property division, tax consequences, and attorney's fees and costs."
Musk has 30 days to respond.