PayPal Founder Elon Musk Buys $17 Million Bel Air Mansion, Take a Peek Inside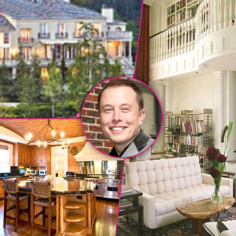 We're guessing Elon Musk didn't use his PayPal account to pay the $17 million price tag on his new Bel Air estate.
The founder of PayPal and Tesla Motors, who has turned his attention — and his millions — to the private space launch business with his latest company, SpaceX, bought the estate he's been renting for the past three years. He got it for $3 million below the property's original asking price when it was listed in April.
Article continues below advertisement
PHOTOS: SpaceX Founder Elon Musk Buys $17 Million Estate
For his $17 million, Elon got a 20,248-square-foot mansion featuring seven bedrooms, 10 bathrooms, a two-story library, a theater, a library/study, and a 1,000 bottle wine cellar.
The 1.7-acre property includes a tennis court, gym and a swimming pool.
That's plenty of space for Musk to entertain his celebrity pals. Leo DiCaprio, George Clooney and Pharrell are all fans of Tesla, the green super sports car.