Exclusive
Mean Girls! Chrissy Teigen Bans Tyra Banks From Baby Shower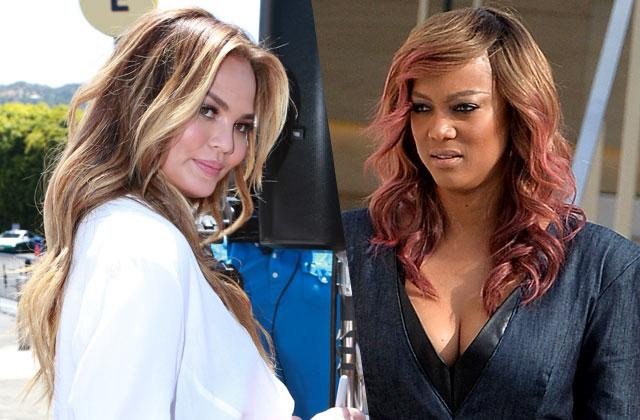 Chrissy Teigen celebrated the impending arrival of her daughter with John Legend during a special Easter Weekend baby shower, but there was one person who was absolutely forbidden from attending!
RadarOnline.com has learned that Teigen banned Tyra Banks from the Kim Kardashian-hosted March 26 event, where guests feasted on items from McDonald's All Day Breakfast Menu.
"Tyra was not invited to Chrissy's baby shower," a source told RadarOnline.com. "All the rumors of behind-the-scenes drama are true. Those two absolutely hate each other!"
Article continues below advertisement
As RadarOnline.com reported, the set of the former co-hosts' show FABLife devolved into chaos last fall.
In November, Banks, 41, announced the "very difficult decision" that she was leaving the program, which she created and executive produced. The former America's Next Top Model judge and new mom was just three months into production.
One reason, said a source at the time, was Banks' difficult work relationship with 29-year-old Teigen.
"Tyra never even looked at Chrissy when they weren't filming," the show source told RadarOnline.com. "The vibe on set wasn't friendly at all. It was tense."
Despite the rumors of bad blood, Teigen tried to deflect blame on Twitter.
"I dunno if you guys know how bosses work," Teigen wrote, "but if Tyra and I were fighting as hard as you're saying, I would be the one off the show."