Exclusive
Coldblooded! Vicki Gunvalson's New Man Once Accused Of Pushing, Burning Woman In Bonfire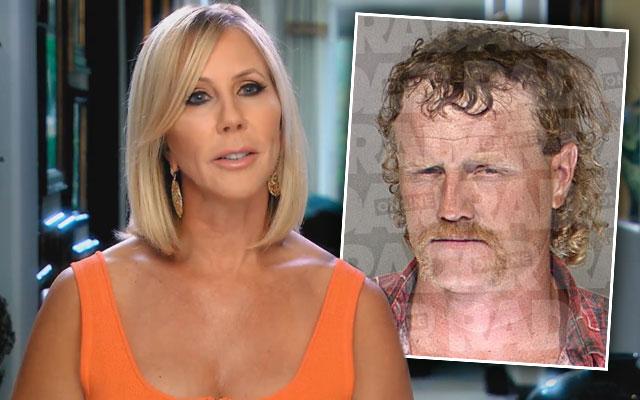 Vicki Gunvalson may be thrilled about her brand new relationship, but RadarOnline.com has learned she could be headed for heartbreak yet again: Her new man has faced shocking claims of a violent past. Does she know?
As RadarOnline.com reported, Gunvalson moved on from her troubled ex, Brooks Ayers, with Arizona construction superintendent Jack Losey.
"I'm happy tonight," Gunvalson, 53, recently gushed of a date with her rugged new man. "Country dancing, Cowboy, Scottsdale."
Article continues below advertisement
However, RadarOnline.com can exclusively reveal the Real Housewives of Orange County star's love interest was once arrested for aggravated assault.
The incident stems from a 1999 altercation he had with a woman who claimed she was trying to stop him from going after his then-wife, Sarah Losey.
According to court documents, Jack and his wife Sarah allegedly were at a bonfire when he threw his drink and pushed her in the back.
READ THE SHOCKING COURT DOCUMENTS
That's when his accuser, Tammie Jordan, got in the middle of the ruckus and later claimed Jack pushed her, causing her to fall into the fire and suffer first- and second-degree burns.
According to legal documents, Jack turned himself into police, but his lawyers argued witness statements were false and misleading since, they said, Jordan was the aggressor and he was just trying to defend himself.
Article continues below advertisement
In the court documents, Sarah told officers that "Jackie was 'kind of psycho'" and had a history of bad behavior.
In one incident, Sarah told police that "Jackie demanded his keys" from her, but when she told him she didn't have them, "Jackie grabbed her left forearm, slammed it on the counter and demanded the keys," the documents state.
However, police noted that Sarah did not have any visible signs of injury and Jack was never charged in that incident.
Jack's lawyers also argued that prior alleged incidents of domestic violence between their client and Sarah were irrelevant to the bonfire case.
According to the legal papers, Jack is said to have threatened to kill himself and shot a shotgun through a ceiling. He was also on probation for a weapons misconduct charge.
There is no record of the verdict against Jack in the Jordan bonfire incident.
Does he seem like a good match for unlucky-in-love Vicki? Let us know in the comments!