Exclusive
Michael Douglas' Jailed Drug Lord Son Sends Raunchy Letters To Female Fan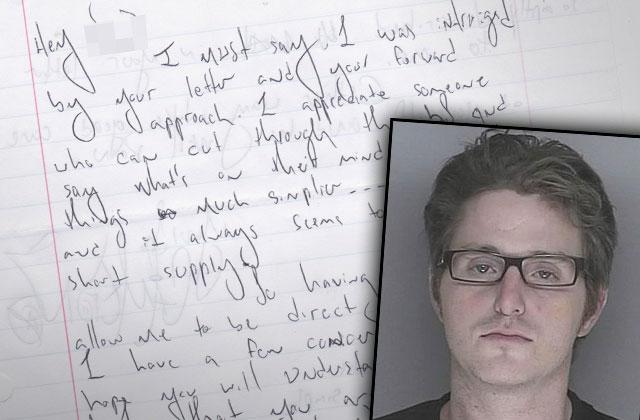 Article continues below advertisement
In a bombshell development, a handwriting expert commissioned by RadarOnline.com believes the inmate shows signs of being an entitled, sexually controlling deviant who may have sadomasochistic sensibilities.
"He's sexually perverted — there is no doubt about it," behavioral investigator Susan Constantine claims.
In a two-page letter obtained exclusively by RadarOnline.com, Cameron brazenly requests "more photos" from the woman in return for his own X-rated shots.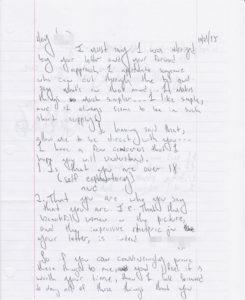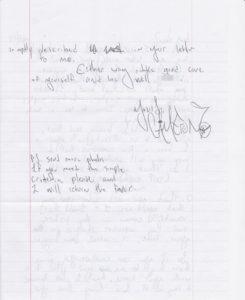 Handwritten from his prison cell, Cameron scrawls: "I must say, I was intrigued by your letter and your forward approach. I appreciate someone who can cut through the b.s. and say what's on their mind…It makes things much simpler…So having said that, allow me to be direct with you…I have a few concerns that I hope you will understand."
Cameron then went on to list what he's worried about:
"1. Is that you are over 18 (self-explanatory)," he wrote.
Article continues below advertisement
"2. That you are who you say you are, i.e., that the beautiful woman in the picture, and the impressive rhetoric in your letter, is indeed named redacted," he added to his list.
"So if you can convincingly prove these things to me, and you feel it is worth your time, then I look forward to doing all of those things that you so aptly described in your letter," he wrote, adding, "P.S. Send more photos if you meet the simple criteria please and I will return the favor."
The contents of the original letter are unknown, but Cameron is clearly eager to reveal his own private photo album to the "beautiful woman."
"There is no doubt he is running the show, and she is an active submissive participant," Constantine explained to RadarOnline.com.
"This is not the first time for him. It wouldn't surprise me if it was an S&M type of an arrangement, because he's the dominant setting the ground rules and she's the submissive who must abide by the rules," said the expert.