Jailhouse Interview: Michael Douglas' Drug Dealer Son Speaks Out From Behind Bars, Admits Being 'Trapped In A Vicious Cycle Of Relapse'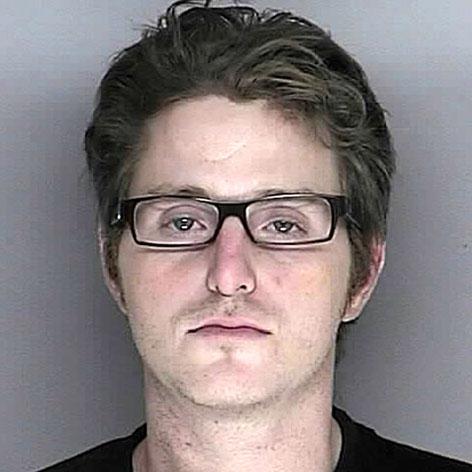 For the past four years, Michael Douglas' oldest son, Cameron, has been locked away in jail, serving time for a host of felony drug charges stemming from his time as a crystal meth dealer and heroin addict.
Now, just months after failing a urine test that earned him four and a half more years on his five year sentence, he's speaking out for the first time from "the belly of the beast" about being a captive of what he says is a flawed justice system.
Article continues below advertisement
"I'm not saying that I didn't deserve to be punished, or that I'm worthy of special treatment," Cameron tells the Huffington Post in his first-person essay. "I made mistakes and I'll gladly and openly admit my faults. However, I seem to be trapped in a vicious cycle of relapse and repeat, as most addicts are."
"Unfortunately, whereas the effective remedy for relapse should be treatment," he writes, "the penal system's 'answer' is to lock the door and throw away the key."
Cameron begs "men and women who hold positions of influence to find the courage to fight for change because they understand what is inherently right."
Cameron's dad has been an outspoken supporter of his son's fight against his sentence. "I have gone from being a very disappointed but loving father who felt his son got what was due him to realizing that Lady Justice's blindfold is really slipping," Michael said recently.
Article continues below advertisement
And Cameron appreciates the support, writing, "I feel thoroughly blessed. I have a beautiful and loving family who has faithfully supported me every step of the way, believing in me and refusing to give up in the face of one bleak adversity after the next. However, through these obstacles and carrying with me this love, I have managed to build a strong faith, and I feel in the deepest recesses of my heart that there is a beautiful purpose hidden along this painful journey. And no matter what my surroundings or conditions, I am determined to find within myself the design for which I was born, and by doing so, fulfill my humble part in this extraordinary existence."
Cameron is not eligible for parole until 2018, but according to the New York Times, a group of prominent addiction doctors are working behind the scenes to shorten his sentence.