Exclusive
Sandra Bullock's Former Stepdaughter Arrested For Assault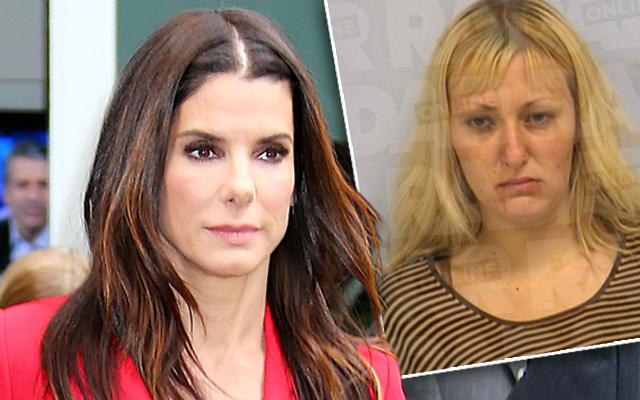 RadarOnline.com has exclusively learned that Sandra Bullock's former stepchildren were involved in a nasty physical fight that ended when police stepped in.
According to court documents obtained by Radar, police officer Kyle Robertson responded to a domestic disturbance at an Austin home between Chandler James and her brother Jesse James Jr., who are West Coast Chopper owner Jesse James' kids with his first wife, Karla Huber.
Article continues below advertisement
When Robertson arrived, "I could clearly see the male subject had an injury to the side of his face and neck and he was advising that "she just beat the s**t out of me," he wrote in his report, dated June 16, 2015.
According to Robertson, Jesse Jr. had "several visible injuries to his face, neck, arms and chest."
The report stated, "I observed the left side of Jesse's face to bed beat red with approximately a 5-inch mark running down the side of his face to his neck. Jesse also had several scratch marks running down both of his arms. I asked Jesse to pull up his shirt and I observed bright red marking on his chest and back wear it appeared he had been hit with some object."
Jesse Jr., 18, reportedly told Robertson that he Chandler had begun fighting in the car and the altercation turned physical. Chandler ordered her brother out of the vehicle but the fight continued once they both arrived home.
"When he went into the residence Chandler was going crazy and began hitting him all over his face, chest and arms with her hands and the set of keys she was holding," Robertson wrote of Jesse Jr.'s claims, adding that "Jessie described it as she was 'swinging at him in a blind rage.'"
Jesse Jr. told cops that he was injured from the assault and officers arrested his sister, who eventually released on a $4,000 bond.
Despite the drama, Jesse Jr. decided to drop the charges against Chandler, and the case was dismissed on Nov. 10.