Courtney Stodden Reveals Heartbreaking Love Triangle Involving Mother & Husband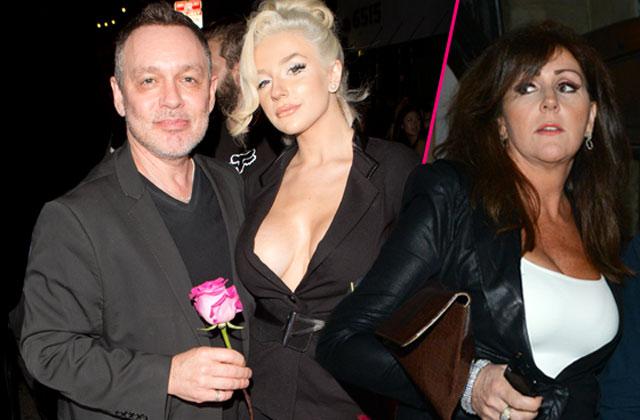 Courtney Stodden is preparing to celebrate her 5th wedding anniversary – but that didn't stop her mother from moving in on her much-older husband! The Teen Bride exclusively revealed to RadarOnline.com all the heartbreaking details of her mother Krista Keller's ultimate betrayal.
"My mom attempted to craft really inappropriate boundaries that a mother should never cross in her daughter's life and her relationships," Courtney, 21, told Radar. "She really started to fall inappropriately for my husband."
Article continues below advertisement
Stodden, who is married to actor Doug Hutchison, 55, accused her mother of falling in love with her husband because of her relationship insecurities.
"My mom wasn't happy, she wasn't having a great relationship with my father," the songstress revealed. "She was living through me for a while. She said, 'What my daughter feels I feel!'"
The betrayal was one of the reasons the mother and daughter were estranged for almost a year, which is why they joined Lifetime's The Mother/Daughter Experiment to mend their broken relationship.
"We hadn't seen each other, we hadn't talked to each other, so we felt like it would be a great experience," Stodden explained of why they joined the therapy show. "She was my manager for a while and they always say don't mix business with family. That had a huge role in it."
Although the model explained how the show was a "positive experience" and gave her "amazing tools" to apply to her relationships, she explained how working on her relationship with her mother was hard.
Article continues below advertisement
"She was in such a vulnerable position," Stodden shared. "I got really frustrated with her. I was dealing with a lot of panic attacks on set dealing with the relationship I had with my mom."
As for Hutchison, Stodden revealed if he fell in love with his mother-in-law.
"Unfortunately not," Stodden quipped. "He didn't! My relationship with Doug is really, really good. We're getting ready to celebrate our 5th wedding anniversary in May and we're going to renew our vows."
The Mother/Daughter Experiment: Celebrity Edition premieres March 1st at 10/9c on Lifetime.