Yolanda Gives Lyme Disease Update: 'I'm Not Afraid For You To See Who I Really Am'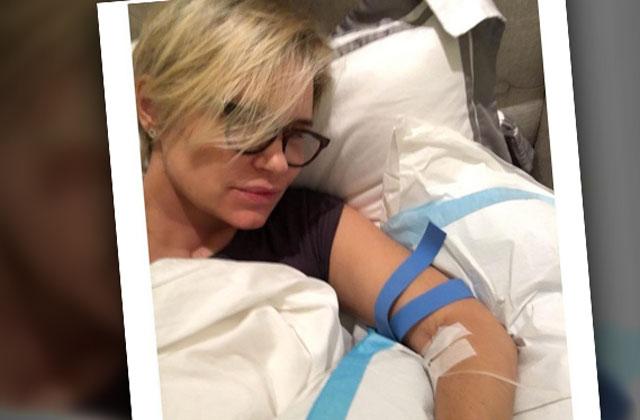 Yolanda Foster has been grappling with Lyme disease since 2012, and though she's been making a steady recovery, the reality star admits that some days are harder than others.
In a new Instagram post, the Real Housewives of Beverly Hills cast member shared an image revealing one of her "down" days, hooked up to an IV in bed.
"I am not afraid for you to see me for who I really am and what my days are really like," Yolanda wrote alongside her intimate snap. "I have learned to love every part of me without apology!"
Article continues below advertisement
"Happy selfie — sad selfie, good days — bad days, with make up — no make up, boobs — no boobs," she continued. "I can only hope that by sharing this not so glamorous journey, the millions of doubted & neglected Lyme sufferers will gain medical recognition of their illness and the appropriate treatment affordable for all."
She concluded the update, defending the post as honest: "This is not a pity party, just reality with good intend #InvisableDisease #NotAVictemButAWarrior."
But it's not all bad news for Yolanda this year. Despite her recent split from husband of four years David Foster, the 51-year-old recently purchased a new penthouse apartment, costing a whopping $4.5 million.
After spending Christmas in Aspen, Colo. with her three children – Gigi, Bella and Anwar – the former model purged her closet, getting ready for a fresh start in 2016.
Though RHOBH costars continue to doubt her illness, Yolanda has remained poised over the matter, calling their disbelief plain-old "ignorance."