Exclusive
Whoopi Goldberg May Not Be On 'The View' Very Much Longer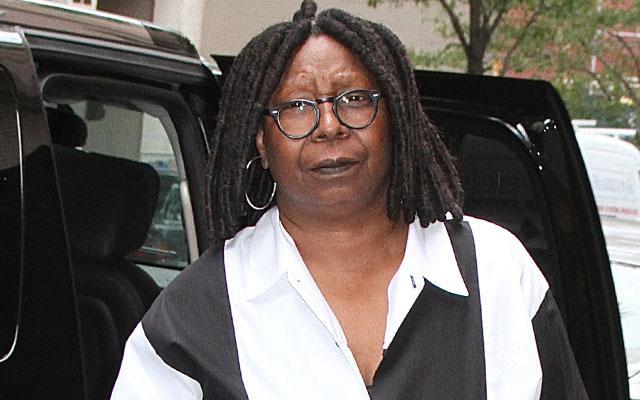 Whoopi Goldberg's contract for her job on The View is coming up for negotiation — and it's shaping up to be a bitter battle, a source exclusively told RadarOnline.com.
"Her attitude is worse than ever," the source dished to Radar.
It doesn't help that Rosie O'Donnell is out of the picture, which has only puffed up 60-year-old Goldberg's ego, noted the source: "Whoopi thinks she is the star player now and she feels like she has all the leverage."
Article continues below advertisement
However, "a lot of people on set want her gone," claims the source.
Indeed, in recent weeks she's been butting heads with Candace Cameron Bure. As Radar reported, Bure abruptly left the set mid-way through Tuesday's show after bitterly sparring with Goldberg on-air.
Compounding the trouble, the show's creator, Barbara Walters, 86, "seems like she almost hates her now" and their relationship is "worse than ever," which doesn't bode well for Goldberg, according to the insider.
"Whoopi called her the 'old lady' last year and Barbara was in disbelief," said the source.
"Then when they started to pick new hosts, including comedienne Michelle Collins, Barbara and Whoopi had a disagreement over the phone about who they would choose and Whoopi made a comment that angered her," continued the source. "It was disrespectful and Babs said she'd had enough."
"Barbara has no real control over the show now, but she has an influence and every time she comes on the show the ratings have come up," said the source. "ABC would be happy if she was on the program. As for Whoopi, not so much."
UPDATE:
An ABC spokesperson told Radar, "The incomparable Whoopi Goldberg is a vital part of our show. As moderator, she steers the ship, and we hope Whoopi is here for a long time to come."
Do you think Whoopi should move on? Let us know in the comments!