Exclusive
Cancer-Stricken Valerie Harper Shocks At Event — She 'Looked Like She Was Dying'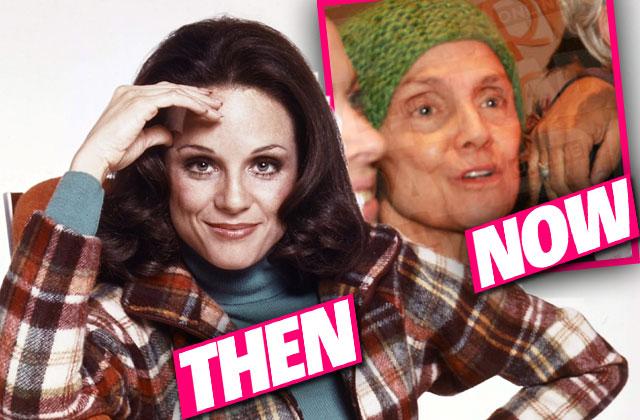 Cancer-stricken Valerie Harper is valiantly facing her sad last days, but the 76-year-old sitcom legend is almost unrecognizable in a shocking photo obtained exclusively by RadarOnline.com.
"Valerie looked like she was dying," an eyewitness at the Jan. 10 event in Los Angeles told Radar. "She was frail and gaunt, a far cry from the vivacious woman she was just months ago."
"For the first time since she was diagnosed with terminal brain cancer three years ago, Valerie looks like she's losing her battle," added the witness. "It's so sad."
Article continues below advertisement
The beloved Rhoda star hid her hair loss with a knit cap and wore no makeup while at the Hollywood Show Autograph Convention.
"Valerie put on a brave face, meeting and greeting fans who stopped by her table to buy photos, books, and DVDs," said a source. "But her appearance was shocking. People couldn't help but stare."
Despite being exhausted, the actress insisted on returning for the event's second day.
"Valerie confessed she was so tired on the ride home from Day One, she couldn't sign extra photographs in the car," said a source. "She came back to finish them. She's such a fighter."
Harper has managed to defy doctors' dire predictions. Medical experts had given her just three months to live when she was diagnosed with rare leptomeningeal carcinomatosis in Jan. 2013.
She's credited her doctors, a drug called Tarceva, alternative therapies, such as Chinese herbal medicine, and acupuncture, plus a positive attitude, with helping her beat the odds.
But in July, she collapsed backstage while starring in a musical in Maine, and was replaced.
In November, she sold off all her belongings, including her Golden Globe for Rhoda and a glass paperweight from close pal Mary Tyler Moore, during a three-day estate sale.
"I'm ready to go," Harper has said. "I'm not scared of death."