Exclusive
Tamra's Medical Crisis! Granddaughter's Kidney Disappeared, Mom Claims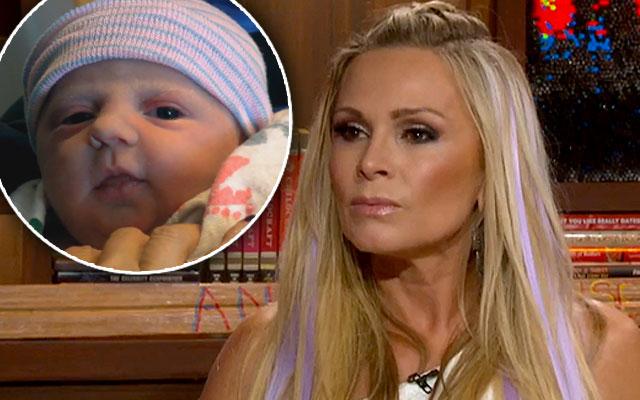 Former Real Housewives of Orange County star Tamra Judge and her family are facing a scary medical crisis! Her daughter-in-law, Sarah Rodriguez recently claimed that the reality star's new granddaughter, Ava, had simply lost one of her kidneys. What really happened and is the infant in danger? RadarOnline.com has all the details.
Rodriguez sparked concerns recently on Instagram with shocking comments about her baby, who she welcomed with baby daddy Ryan Vieth, Tamra's son, in February 2015.
Article continues below advertisement
"She had two kidneys in utero and by the time she was born it had gone away," Rodriguez said in the picture's comments.
However, a source close to Judge told RadarOnline.com, "She was simply born with one kidney. She is healthy and is being monitored by doctors every few months.
Indeed, an expert told RadarOnline.com that fans have no reason to be concerned.
Dr. F. Perry Wilson, an esteemed nephrologist and assistant professor of nephrology at Yale School of Medicine, told RadarOnline.com that although the phenomena of disappearing kidneys is possible, it is extremely rare. According to Dr. Wilson, it was probably an ultrasound fluke in this case.
Wilson, who does not treat Ava, explained that the mom's claims were most likely a result of someone incorrectly seeing two kidneys during a sonogram when the baby was still in utero.
"Documentation of two kidneys with one going away is super super super unusual," he told RadarOnline.com. "It's not easy to get great pictures when the kid is in the uterus. Often times, maybe you think you see a kidney and then when the baby is born, you can get a much better picture and you see that there's not a kidney there. So that's probably the most likely explanation. Kidneys don't really disappear without a trace, except in extraordinarily rare circumstances."
MORE ON:
The Real Housewives of Orange County
Article continues below advertisement
This condition, which is generally not life threatening, is called congenital absence of the kidney, Wilson explained.
Still, the Yale nephrologist, who has not treated Judge or any of her family, does not completely rule out the "extraordinarily rare circumstances" that would have caused Ava to lose an organ.
"If you had the abrupt cessation of blood flow to a single kidney while the baby was in utero or extraordinarily young, instead of scarring down into a lump of scar tissue you could see on an ultra sound, it could be completely reabsorbed in that situation, he told RadarOnline.com. "But again, it's much more likely that there was never a kidney there at all."
Rodriguez also claims that the popular morning sickness drug Zofran may have negatively affected her daughter's kidneys and caused the dramatic organ disappearance.
Story developing.