Inside The Sick Allegations: Duggar Mentor Sexually Molested Minors, Rubbed Girls' Feet, Exposed Penis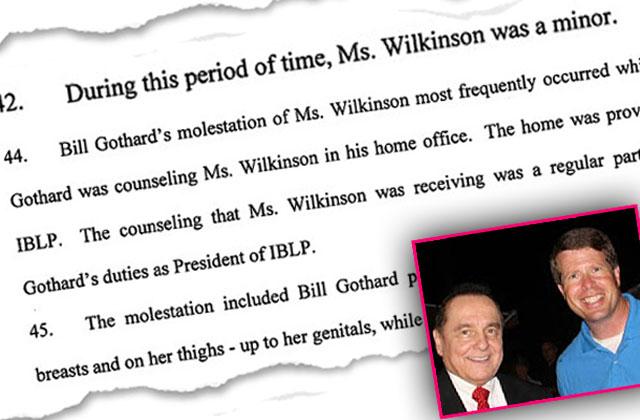 Duggar family mentor Bill Gothard was slapped with a $500,000 sex abuse lawsuit earlier this week— and the allegations are worse than any of the Christian minister's followers could have ever imagined.
According to Illinois' DuPage County Circuit Court documents obtained by RadarOnline.com, ten women have accused the Institute in Basic Life Principles founder, 81, of sexually molesting, harassing, and even raping girls under the age of 18.
Article continues below advertisement
All of the plaintiffs were former participants of his religious ministry.
READ THE SHOCKING COURT DOCUMENTS
Former employee Gretchen Wilkinson claimed that Gothard placed his hands on her "breasts and on her thighs— up to her genitals" during unsupervised "counseling" sessions when she was a minor in the early 90s.
Another plaintiff, Jane Doe II, has among the most horrific stories. She said she was sold for sex and raped by her father and other relatives as a young girl— but found no solace in her church organization.
Doe II claimed IBLP counselor Kenneth Copley raped her in his office in 1994, when she was just 7 years old.
She allegedly reported the rape to ministry leaders, who did nothing.
Doe II sought counseling to cope with her history of sexual abuse with Gothard, who "took pleasure in the details presented and kept pressing her for more explicit details of the abuse that took place," lawyers stated, adding that he gave her shocking advice in the process. "…The last time Jane Doe II tried to disclose abuse, Bill Gothard threatened her. He taught that parents were to be believed over children and that children were to obey their parents no matter what, even if they were being sexually abused."
Article continues below advertisement
In her most shocking allegation, she claimed he raped her in his private suite.
"He had her undress by his window, touched her breasts, and then had sexual intercourse with her," attorneys wrote. "This sexual intercourse was without Jane Doe II's consent."
Other woman claimed Gothard had a bizarre foot fetish. Former IBLP volunteer Charis Barker claimed "Gothard's feet would touch her feet, whenever he had the opportunity."
"Gothard's sexual harassment of Ms. Barker got to the point that the only way she was able to prevent Gothard from touching her feet…was for Ms. Barker to sit on her feet," lawyers alleged.
She also said he exposed his penis to her on several occasions.
Gothard's onetime personal assistant, Rachel Lees, said he would ask her sick sexual questions during counseling sessions and played "footsie" with her.
Article continues below advertisement
"His foot stroked the back of her leg, played with her toes, explored her leg all the way up her calf muscle and back down over and over again, while he was gripping her hand," attorneys claimed.
Lees learned years later that Gothard had sought permission to marry her, but was rejected by the IBLP board.
Another plaintiff, Jamie Deering, claimed at age 13, "something very bad happened" in the middle of the night involving Gothard— but has significant "memory gaps" due to his repeated sexual abuse.