Eileen Davidson Opens Up About Abusive Boyfriend Who Beat Her On 'RHOBH!'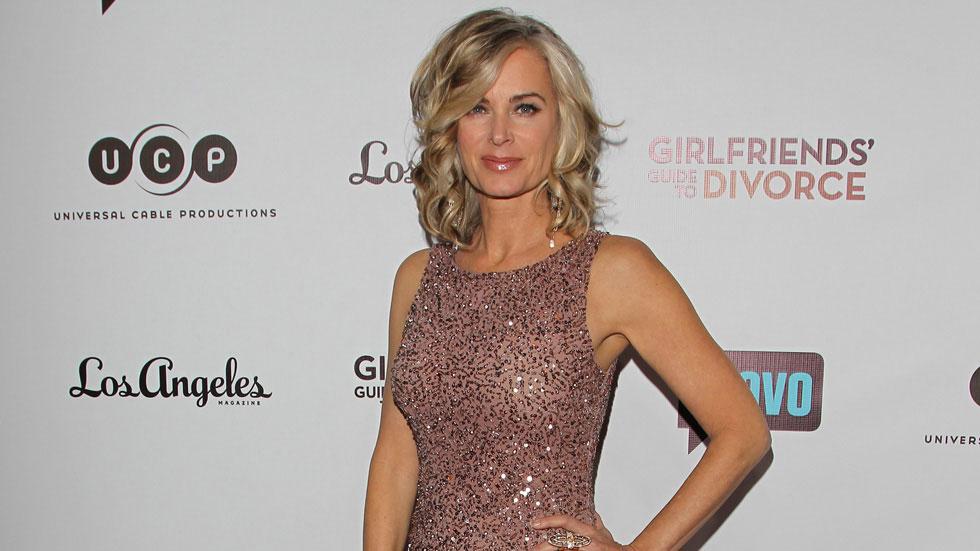 The walls were let down on The Real Housewives of Beverly Hills as the women discussed emotional family topics and a secret, dark past was revealed by Eileen Davidson.
The soap star opened up about being a victim of domestic abuse. "I've been in extremely physically abusive relationships," she said, still shaken by her past.
Erika Girardi looked stunned across the table in The Hamptons. "Like you were beaten?" she asked.
Article continues below advertisement
"Oh yah," Eileen said. "Nobody would think someone like me would be in a situation like that."
She explained that one boyfriend got jealous and then hit her resulting in a broken nose one time and multiple calls to the cops.
"I think it's important that people know that you can come out of abusive relationships," the mother-of-one admitted. "You don't have to keep going through the same cycle over and over again and I'm here to tell the tale."
Before that bombshell, Kim Richards was brought up at Kyle's pop-up shop/Bethenny Frankel's book signing event.
And the former child actress was so over it, especially Lisa Rinna trying to take some of the blame for Kim's arrests.
"I was Kim Richards' worst nightmare to be honest. I was just her mirror," Rinna said.
Kyle admitted, "I feel bad for Kim and it doesn't help that we're not really speaking because I don't feel like I can help her but when I'm speaking to her that doesn't help either." She quickly turned the conversation to something more positive.
Article continues below advertisement
In Ohio, Erika picked up Yolanda Foster in style with her private plane, of course. Yolanda was still bandaged up after her explant surgery but already felt like she could breathe better.
"I've been through a long ass journey with people with doubts," Yolanda said. She opened up about feeling pity for those who gossip and lack empathy and compassion for others.
Now finally the cast is complete with the introduction of the second new housewife, Kathryn Edwards. She is a mid-Western girl who moved to California for a career in modeling and is now married to former NFL star, Donnie Edwards, who also happens to be nine years her junior!
The big twist being that Kathryn was previously married to Marcus Allen, who was O.J. Simpson's best friend and it was rumored that Marcus and Nicole Brown Simpson (O.J.'s wife) were having an affair.
The plot thickened as Faye Resnick (Kyle's good friend) was Nicole's bestie and wrote a tell-all book exposing the affair which Marcus denied.
Kyle couldn't help but inquire but didn't exactly get the response she expected.
"Never met her," the newbie said.
"My feelings about Faye Resnick are not positive," Kathryn said in her confessional. "She mentioned me in her book."
Kyle thought Kathryn's response was a "little aggressive" and suggested maybe she does have something to hide after all!
Catch The Real Housewives of Beverly Hills every Tuesday at 9pm ET on Bravo.