Erika Girardi Calls Bethenny Frankel 'Jealous' And A 'B*tch' On 'RHOBH'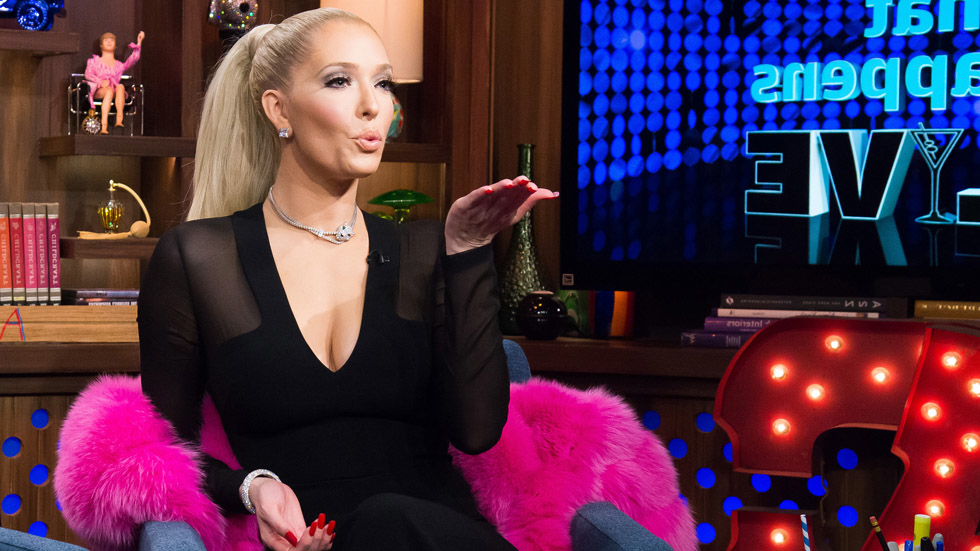 Things got hot in the Hamptons this week on The Real Housewives of Beverly Hills! Newbie Erika Girardi aka Erika Jayne wasn't going to let veteran Bravo star Bethenny Frankel have the last word during an awkward girls dinner.
As it turns out Bethenny is a longtime friend of Kyle Richards. "Bethenny and I have been friends for 25 years now and we've actually really seen each others lives change a lot and gone through a lot with each other," Kyle said in her confessional. So while on the East Coast, The Real Housewives of New York City star hosted a dinner party at her beach home.
Article continues below advertisement
And the topic on everyone's mind was Erika's music video for her song "Painkillr." Lisa Rinna called the highly sexual lyrics and dancing "raunchy" and they made her feel "uncomfortable" while Eileen Davidson said, "I think it's so cool."
'Real Housewives Of Beverly Hills' Season 6: Secrets, Drama & Divas!
Erika, 44, kept her wits about her on this trip— "Gotta be on the A-game around the women. Gotta listen, gotta watch. It's important to really be present," she said.
And, the first thing Bethenny called her was "Playboy bunny" commenting on her appearance, "That's a lot of work right there. That's a lot of upkeep."
When the conversation turned at dinner to what Bethenny's opinion of Erika's music video was, in true B fashion, she didn't hold back.
Kyle Richards Gets Brutally Honest About Yolanda Foster's Divorce
"I don't love the production value of it … It looks cheap," said the Skinnygirl mogul, claiming the video was trying to be "avant-garde" but failing and that the props were "cheesy."
Article continues below advertisement
Clearly insulted and ticked off, the performer said, "It's not as easy as it looks but anybody can make a margarita."
Kyle looked slightly petrified by the comments and Erika's reaction— "Bethenny can come off very strong and she's very opinionated and sometimes she will offer some unsolicited advice."
Beverly Hills Cast Taping Most Shocking Housewives Vacation Ever
Erika said in her confessional, "I mean everyone's entitled to their opinion. I just don't agree with her, ya know. I don't think she knows what she's talking about. Whatever." She offered her own etiquette advice, "I don't tell her how to run her business … I would never treat anybody like that in my home."
While in her confessional the entertainer had the final word about the businesswoman—"Is she being a bitch or is she just being … jealous?"
Besides Bethenny rubbing people the wrong way, Lisa Vanderpump questioned Eileen about her alleged "affair" with husband Vincent Van Patten before they were married.
The soap star said the snooping "makes me feel like Lisa doesn't respect my marriage at all."
And then Vanderpump continued her prying ways by interrogating Erika about her much older husband Tom Girardi!
But nothing seems to get past "Bambi" though—"I sense that Lisa Vanderpump really enjoys making you feel uncomfortable and digs around and I'm guessing that's because she wants to be in control. She's kinda the self appointed leader of the group and it's in her best interest to keep all her little ducks in a row."
Maybe blondes do have the brains.
Watch The Real Housewives of Beverly Hills every Tuesday at 9pm ET on Bravo.