Exclusive
'Secret Police File' Could Put Cosby Away For Life In Sex Assault Suit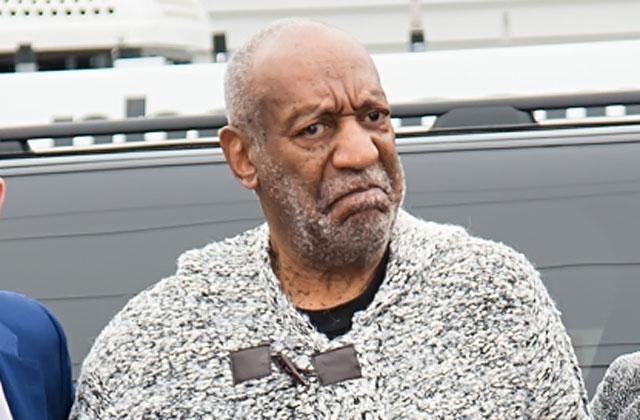 In a bombshell world exclusive, RadarOnline.com has acquired the "secret police file" containing the official statements of the perverted comic Bill Cosby and his victim, Andrea Constand.
Pennsylvania prosecutors could use that file to put the 78-year-old monster behind bars for at least 10 years after filing three felony charges of aggravated indecent assault against him on Dec. 30.
According to authorities, America's once-quintessential TV dad assaulted Constand, a stunning 6-foot athlete, in 2004 while they were alone in his suburban Philadelphia mansion.
Article continues below advertisement
"Cosby made a point of telling her in advance that they would be alone and that she should wear comfortable clothes," a law enforcement source told RadarOnline.com. "He greeted her in a sweatsuit when she arrived just before 9 p.m."
As they began talking, Constand recalled feeling "drained" and "emotionally occupied," according to a confidential document in the police file.
She went to the bathroom, and said Cosby, then 67, produced three blue pills for her, telling her they were herbal medication — and "the blue things will take the edge off."
Article continues below advertisement
Cosby later claimed he only gave Constand "1.5 pills, split into three halves," said the source. "And he said the blue pills were actually Benadryl."
Andrea said the debauched star also gave her a drink, telling her: "Put them the pills in your mouth. Taste the wine. Just taste the wine."
Some 20 to 30 minutes later, Constand said her vision blurred, she had difficulty speaking and her legs felt "rubbery."
Cosby recalled a dramatically different version of events, insisting their conversation quickly turned to romance.
"We began to neck and we began to touch and we began to feel and kiss and kiss back," he said, according to pages of the police file.
Cosby claimed the couple had moved to a living room sofa, and assumed a "spooning position."
According to the document, he said: "I go inside her pants. She then took her hand and put it on top of my hand to push it in further."
Article continues below advertisement
Cosby said Constand made a sound that he assumed was an orgasm, and then he suggested that she "please take a nap."
That's not at all of what Constand remembers, however.
"The poor girl's version of events couldn't have been more different," said a police source. "She described herself as 'frozen' and 'paralyzed' as Cosby took advantage of her."
According to Constand's confidential statement, Cosby "touched her breasts and vaginal area, rubbed his penis against her hand, and digitally penetrated" her.
She lost consciousness and awoke around 4 a.m., "feeling raw in and around the vaginal area … her clothes and undergarments were in disarray," according to the document.
In Cosby's version of events, Constand didn't seem upset when he greeted her in a bathrobe. He claimed he gave her a "blueberry muffin" in his "cappuccino room" along with some "Red Zinger" tea before sending her off into the night.
Article continues below advertisement
"In an attempt to cover up the dirty deed, Cosby engaged in several self-incriminating telephone conversations with Costand and her mother, Gianna Constand, which were recorded," the source revealed.
According to a criminal complaint in the police file, "Through these admissions to Mrs. Gianna Constand, Cosby directly corroborated the victim's report concerning these actions."
Renowned legal expert and former Brooklyn, N.Y., prosecutor Javier Solano was provided with details of the evidence by RadarOnline.com — and concluded the case against Cosby is overwhelming.
"The bottom line is that prosecutors already have all the factual evidence they need. They have a very strong case," he told RadarOnline.com.
"If I was Bill Cosby's lawyer, and I'm not, I would try to figure out a way to get a plea deal as soon as possible!"