Big Ang Having Marital Issues Amid Cancer Crisis: 'Things Ain't That Great With Us'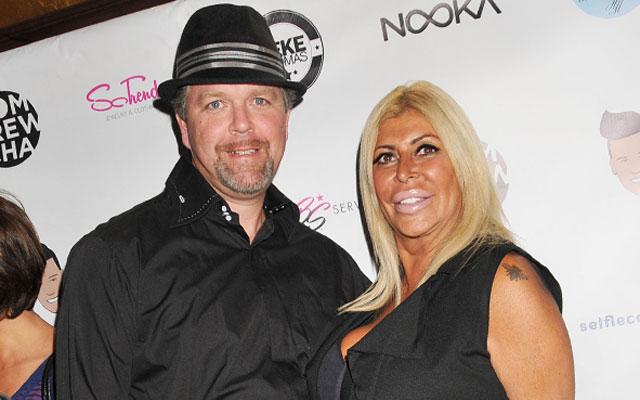 Angela "Big Ang" Raiola is turning to her family for support while she battles throat cancer for the second time, but the Mob Wives star exclusively revealed to RadarOnline.com that she isn't leaning on her husband's shoulder this time around.
Raiola, 55, admitted she's having marital issues with her husband of six years, Neil Murphy, 43.
"Things ain't that great with us," Raiola told RadarOnline.com during the Mob Wives season premiere screening on January 13. "Right now I just want to be by myself."
Article continues below advertisement
The now-estranged couple appeared on season six of Couple's Therapy in an effort to save their marriage. Despite remaining optimistic following the show, the couple is now on the outs.
"I think it's time I just do Angela, it's time for me to worry about Angela," the VH1 star said. "Instead of taking care of everybody, I am taking care of myself."
The marriage shocker couldn't come at a worse time, as Raiola was recently diagnosed with throat cancer after beating the illness in March of 2015.
"I'm doing good," the reality star confessed of her current condition. "All I care about right now are my kids, my grandchildren and staying healthy so I could see them grow up."
Raiola is leaning on "family only" during the difficult ordeal, as she explained how her Mob Wives co-stars "have their own lives."
"I don't hang out, I don't have time for that," she said. "I have so much going on in my own life. We work together, that's it."
Article continues below advertisement
But Raiola hopes to be reunited with her co-stars in the future, as she remains optimistic that "another network picks up" the drama-packed reality show.
As family, friends and fans watched the premiere episode and enjoyed free massages by Dr. Philip Trigiani at her former Staten Island Bar The Drunken Monkey, which is now called The Funky Monkey, Raiola revealed what fans could expect from her storyline on the final season.
"They could find out how sick I was and what I've been through with my health," she said. "All the drama that's going on with these girls, psychos! It's an awesome season!"
Mob Wives airs Wednesdays at 8/7c on VH1.