Abby Lee Miller's Bankruptcy Fraud Case Delayed — In More Hot Water?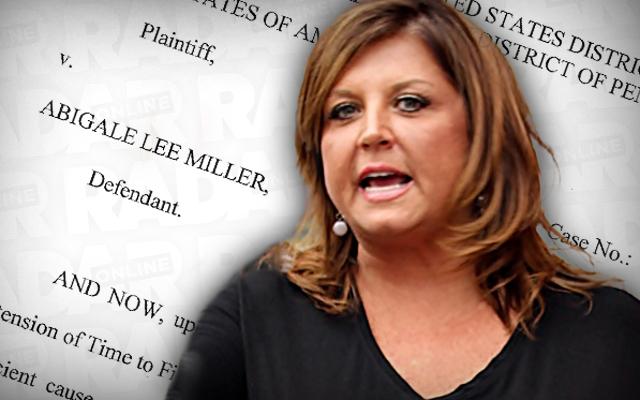 The drama for Abby Lee Miller has not ended this week.
RadarOnline.com has exclusively learned that the 49-year-old Dance Moms star's bankruptcy fraud trial has been delayed for the third time.
According to court documents obtained by RadarOnline.com, Miller's legal counsel submitted a request on Jan. 27 for an extension on the deadline to file their pretrial motions.
The papers said that the FBI provided Miller's attorney "two discs containing discovery material" during a meeting on Dec. 3, 2015.
Article continues below advertisement
But at the meeting, more material was not provided to Miller's team.
That extra material is currently being held at the FBI's Pittsburgh office — and Miller's most recent motion was filed because her lawyers and the FBI have "not been able to coordinate a mutually available time" for her counsel to review it.
The court granted Miller's request, and she now has until March 1 to file her pretrial motions.
READ THE SHOCKING COURT DOCUMENTS
As RadarOnline.com previously reported, Miller plead "not guilty" to two counts of bankruptcy fraud, five counts of concealment of assets and 13 counts of making false bankruptcy declarations on Nov. 2.
Is found guilty, she could face up to five years behind bars and $5 million in fines.
In 2010, Miller filed for Chapter 11 bankruptcy, and is now accused of hiding over $755,000 she earned from her Lifetime show.
Article continues below advertisement
During the season 6 episode 4 of the hit show — which aired the same day her team requested the extension — Miller complained about her ongoing federal case during a tear-filled phone call.
The next day on the show, she sent a letter to the mothers at her Abby Lee Miller Dance Company Studio in Los Angeles stating that she was resigning.
But as RadarOnline.com exclusively reported, Abby lied about quitting and actually was granted permission to travel to Las Vegas for work between Jan. 22 and Jan. 25.
On Saturday, Jan. 23, Sheer Talent hosted a Special Edition dance competition in Vegas, advertising that Dance Moms would be shooting "a New Episode for Season Six!"