Madonna Trying To Send Rebellious Son Rocco To Military School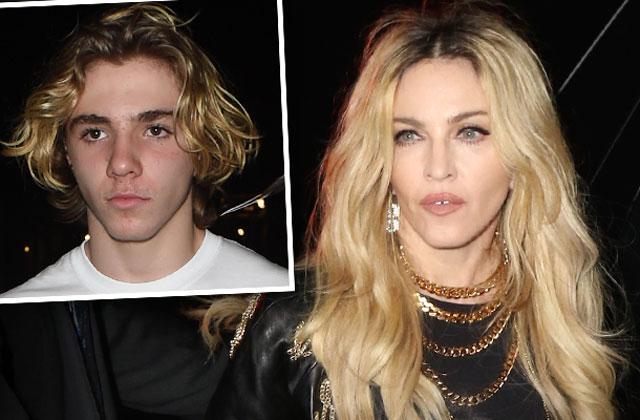 Madonna may be taking her controlling nature to the next level when it comes to her runaway son Rocco Ritchie.
As Radar previously reported, Rocco, who refused to leave his father Guy Ritchie's home in London to celebrate Christmas with Madonna in New York, has always lived under his mother's strict rules.
"Madonna is a very good mother, but she's mega controlling," a source close to the pop icon, 57, told Radar. "She actively tells him what he can and can't do, who he can and can't talk to."
Article continues below advertisement
But now, insiders say the "Like A Virgin" hit-maker is threatening to send her son to a "military type boarding school" in order to straighten him out, New York Daily News reports.
"He's not being dragged around like a dancing puppet when he's in London," a source told the publication. "He can meet his friends, eat fast food, he doesn't have an early curfew. The story is his father manipulated him, which couldn't be farther from the truth. Rocco has a life and friends in the U.K. and he can have girlfriends and be in one place."
As RadarOnline.com exclusively reported, an insider revealed that Madonna and her eldest boy's fighting came to a head in mid-November when Rocco "ran away in Stockholm," during a stop on his mom's Rebel Heart Tour.
But no matter Rocco's feelings, a New York judge ruled that the disgruntled teenager must return home to his mother before school begins in January.
"Madonna pulls the strings, calls the shots," a source shared with Radar. "She's a hawk in leather leggings."
Will Madonna succeed in sending Rocco to boarding school or will dad Guy Ritchie come to the rescue? Let us know what you think in the comments below!