Exclusive
Tell-All Rips Lid Off George W. Bush's Alleged White House Affair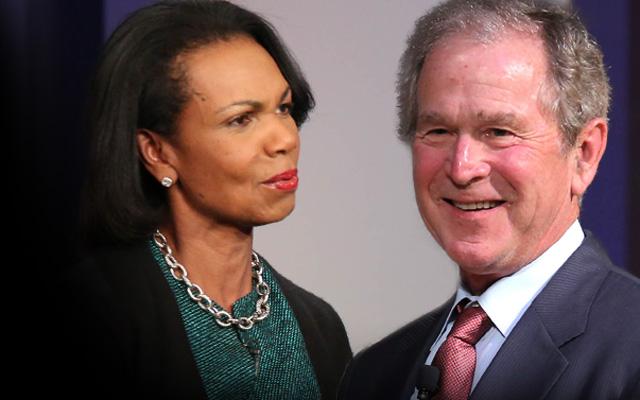 In a bombshell exclusive, RadarOnline.com has learned that the FBI is trying to cover up allegations of drug use by former President George W. Bush and the steamy secret affair he had with his Secretary of State Condoleezza Rice.
The scandal erupted on Dec. 6 when a long time White House chef blew the whistle on the presidential hanky-panky in a shocking book.
RadarOnline.com traveled to New Orleans to track down the author and master chef Ronnie Seaton, who claims the FBI told him to clam up about his scandalous 278-page book, Sir White House Chef.
Article continues below advertisement
"The FBI told me not to talk, which I think was kinda weird," the 60-year-old chef tells RadarOnline.com. "It's a freedom of speech issue and I should be able to express myself!"
Seaton, who worked as an on-call White House chef for 32 years, says he got a front row seat to now-69-year-old Bush's pot smoking and whisky habits that eventually led to the hot and heavy affair with the "extremely intelligent" and "well groomed" Rice.
The White House romp he learned about occurred after a one-on-one late night foreign policy meeting that was followed by an even later dinner of rice pilaf, soup and salad, which Seaton served the two.
Seaton tells RadarOnline.com that First Lady Laura Bush learned about the "meeting" and confronted her husband several weeks later, incredibly in front of awestruck kitchen staff, including Seaton.
"She told him that she found out he stayed there a little too late and something else happened — something more than just a meeting," Ronnie said.
Article continues below advertisement
"George you know that meeting lasted too long!" Laura sniped at her husband, according to Seaton.
"She told him if it happens again he wasn't going to be able to use it again— that she was going to cut it off."
"We were all surprised because Condoleezza was so professional," Seaton said about the idea of a sexual encounter.
Seaton tells RadarOnline.com he doesn't know if the pair hooked up again, but Laura made sure there would be no more dalliances in her White House.
"George and Condi stayed professional but there weren't anymore late night meeting without a complete staff present," he explained.
Rumors about the affair have swirled around Washington for years before Laura apparently caught on.
In 2004, Rice, now 61, accidentally referred to the president as her "husband" during a Washington D.C. dinner and the president once called her his "date" during an overseas trip.
Article continues below advertisement
The President's marriage hit the skids because of his boozing habit and alleged marijuana smoking, insiders said. Seaton's book confirms Bush was quietly hitting the bottle while publicly claiming to be on the wagon.
"President Bush drank a lot of whisky. He loved Bourbon," Seaton wrote in his book, which he co-authored with Dr. Sherman Smith. "He would get tipsy and Mrs. Bush was working hard as she could to keep him straight."
UPDATE:
The New York Post reports that "the White House has no record" of Seaton ever working there. He insists that his claims are true.