Diane Kruger & Norman Reedus Tried To Be 'Incognito' During Sexy Night Out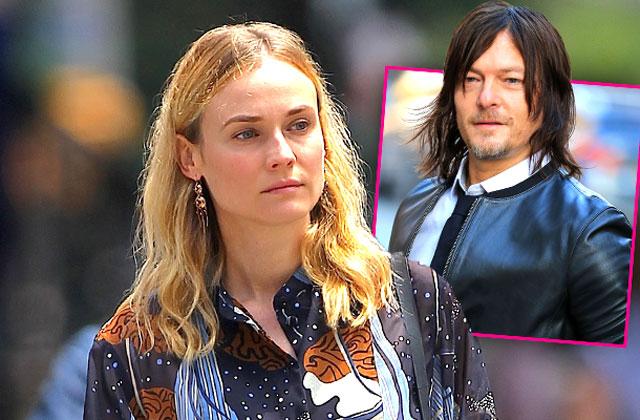 Diane Kruger and Norman Reedus certainly didn't want anyone to spot them when they snuck into a quiet New York City bar over the weekend, onlookers exclusively tell RadarOnline.com.
"They were both dressed very casually. Norman was wearing a hat, and Diane had barely any makeup on," a bar patron tells Radar of the couple's post 1 am arrival into East Village dive 12th Street Alehouse. "They ordered whiskey, and immediately walked hand-in-hand to a table in the back corner."
Article continues below advertisement
Though very few people remained in the late-night hangout, Kruger, 39, and Reedus' fellow drinkers were "die-hard" Walking Dead fans, and couldn't have missed a sighting of their favorite actor.
"My friends geeked out," the eyewitness says. "We couldn't believe he was right there."
Completely unaware of the watching eyes, the pair began engaging in a "high school make out session" just ten minutes after walking in, the onlooker alleges.
"They were on top of each other," the source claims. "Every time I looked over, she was on him, or he was on her."
The actors were still locking lips when the onlooker and her friends left the bar at 2 am.
The shocked eyewitnesses think Kruger and Reedus, 46, really believed no one would notice two Hollywood stars in their midst.
"They clearly thought they were incognito," the onlooker surmises. "They thought no one could possibly recognize them in that hole in the wall."
While Reedus is single, Kruger has been dating The Affair actor Joshua Jackson since 2006.
Less than a month ago, Jackson, 37, gushed about his longtime love at an InStyle event.
"One of the most attractive things to me about Diane is how confident she is in herself as a woman and in her beauty," he said, "and how much self respect she has."
All three actors— Kruger, Jackson and Reedus— recently starred in drama, Sky.