Coco Austin Holds Daughter Chanel In Before & After Pregnancy Pics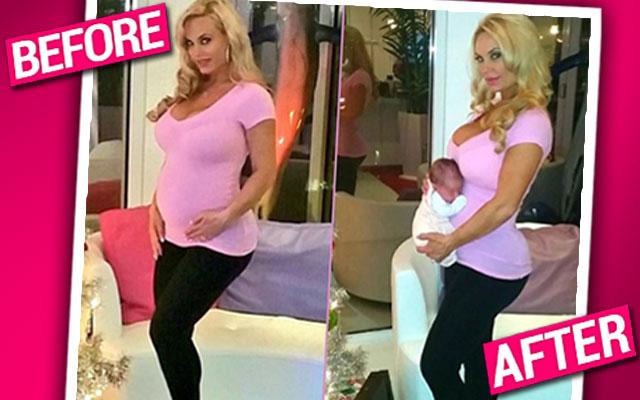 Three weeks after giving birth to daughter Chanel Nicole, Nicole "Coco" Austin gave fans an up-close look at her before-and-after baby bod.
Ice T's wife, 36, shared a photo to Instagram on Sunday, Dec. 20, featuring a side-by-side comparison of her baby bump.
In each snap, Austin strikes a sexy pose (of course), wearing a tight pink T-shirt with a pair of black leggings.
The original photo displays her barely-there belly, when Austin was "heavily" pregnant. The cooing new mother received a lot of attention throughout her pregnancy, both for her revealing maternity wear, and her tiny baby bump.
Article continues below advertisement
In the second photo, Austin replaces her bump with little Chanel, who curles up in her loving mother's arms.
"I can't believe @babychanelnicole came 3 weeks ago already," the reality star captioned the post. "Her due date was supposed to be Dec 17th. The pic on the left was me at 37 weeks..I took that pic right before I went to the hospital to have her..I wanted it to be a special moment here not a moment where I was freaking out cuz I believe the baby feeds off your energy."