Christie Brinkley Refuses To Marry John Mellencamp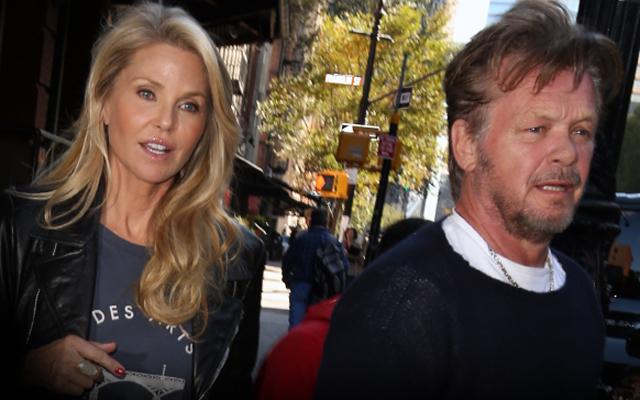 John Mellencamp is determined to get on a bended knee and ask Christie Brinkley to say "I do," but she's telling him, "Please don't!"
According to insiders, singer Mellencamp is still the marrying type after three failed marriages, yet he's having a hard time convincing four-time divorced girlfriend Brinkley to take the plunge again.
"John first got married when he was just 19. Between his three wives, he was married for 40 years," a close friend told Radar.
Article continues below advertisement
"He thinks dating should inevitably lead to matrimony, but he's having trouble convincing Christie!"
Mellencamp, 64, has been dating Brinkley, 61, since August.
"After four divorces, she's soured on matrimony and is resisting a fifth marriage," the insider continued. "But John's not giving up his dream of making Christie his blushing bride."
"Christie's been holding him off at the pass, but don't underestimate John!" the source said.
The legendary super-model's marriages include a nine-year union to singer Billy Joel, a close friend of Mellencamp's. Her disastrous scandal-ridden fourth marriage was to architect Peter Cook, who, as The National ENQUIRER revealed in 2006, had a clandestine affair with a teenage mistress. The fling was confirmed during the couple's 2008 divorce trial.
Following Mellencamp's 2010 divorce from model Elaine Irwin, he dated actress Meg Ryan. But Ryan broke things off last summer with Mellencamp, who refused to relocate to Manhattan from his hometown in Bloomington, Ind.
MORE ON:
Christie Brinkley
Article continues below advertisement
"John learned his lesson from his split with Meg," the pal told Radar.
"He's dangling a carrot in front of Christie, agreeing to move to New York, where Christie lives—if she'll accept his marriage proposal! He's ready and willing to turn his life upside down for her."
Meanwhile, Mellencamp is continuing to woo Brinkley, recently sweeping her off her feet with a romantic getaway to his country estate on Daufuskie Island, near Hilton Head, S.C.
"John and Christie have eight children between them… and he's confident that one day, they're all going to be one big family!" the source said.
Do you think Christie should marry John? Sound off in comments below.