Burt Reynolds Slams Charlie Sheen For HIV Diagnosis: 'He Deserves It!'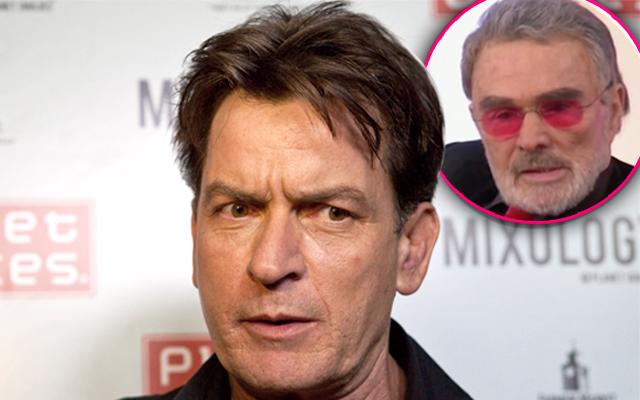 Burt Reynolds has a bone to pick with Charlie Sheen.
During an interview on the British talk show, Loose Women, the 79-year-old actor slammed the Two and a Half Men star, 50, for his HIV Diagnosis.
The interview started out with the show's host asking Reynolds — who himself had once been at the center of HIV rumors which turned out to be false — what he thought about Sheen coping up to his HIV diagnosis.
Article continues below advertisement
"His father is a very, very decent man and a dear friend of mine," he responded, speaking of Martin Sheen, 75. "I feel bad for him."
Unfortunately Reynolds doesn't feel so sorry for the younger Sheen.
"But Charlie, I don't feel bad for," he said. "He's getting what he deserves."
"If you are going to misbehave like that, then they're going to get you," he continued.
Reynolds has no sympathy for Denise Richards' ex because of his promiscuous lifestyle.
"Charlie, no," he said, repeating himself. "He deserves it. He misbehaved badly, very badly."
Reynolds isn't the only one slamming Sheen.
As RadarOnline.com reported, Sheen is in the middle of a bitter fight with his ex-girlfriend Brett Rossi — known as Scottine Rossi — who filed a lawsuit on Dec. 3 accusing him of "physical, psychological and emotional abuse."
In a new legal document, Sheen blasted Rossi as a conniving scorned ex hell-bent on revenge.
"Nearly a year into their relationship, Rossi revealed her true self: A woman motivated by greed and consumed with jealously," the court documents obtained by RadarOnline.com claimed.
Sheen added that Rossi "gets paid for sex as a prostitute and a porn star" and alleged that she "received over $500,000 in gifts, private jet travel, and other benefits" during their 11-month relationship.