Exclusive
Charlie Blasts His 'Jealous' Porn Star Ex Is Bitter 'Extortionist'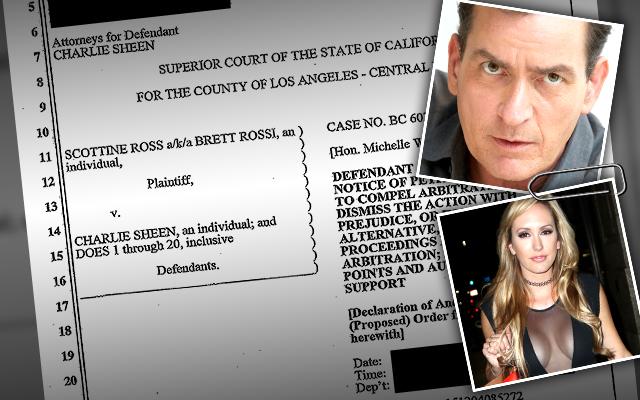 Charlie Sheen is slamming his porn star ex-girlfriend as an "extortionist" and demanding she withdraw her lawsuit against him.
In a new legal document filed by lawyer Marty Singer, Sheen blasted Brett Rossi, also known as Scottine Ross, as a conniving scorned ex hell-bent on revenge.
"Nearly a year into their relationship, Rossi revealed her true self: A woman motivated by greed and consumed with jealously," claim the court documents obtained by RadarOnline.com.
Article continues below advertisement
Sheen wrote the court that Rossi "gets paid for sex as a prostitute and a porn star" and alleged that she "received over $500,000 in gifts, private jet travel, and other benefits" during their 11-month relationship.
The star's legal team then slammed Rossi for her attempt to "extort millions of dollars by disclosing Sheen's medical condition even though she had signed a confidentiality agreement," in November 2013, according to the documents.
Article continues below advertisement
"Rossi is simply trying to exploit her prior relationship with Sheen for monetary gain by claiming, among other things, that Sheen intentionally exposed her to HIV by engaging in sexual intercourse without her knowing that he was HIV-positive (which is a complete fabrication)," claimed the documents filed by Sheen.
Sheen's lawyer goes on to allege that Rossi knew of his his client's HIV status and that "she was the one who insisted upon having unprotected sex with Sheen 'like a normal couple.'"