Fighting Mad! Charlie Sheen 'Strangled & Choked' Ex-Fiancée, Claims Witness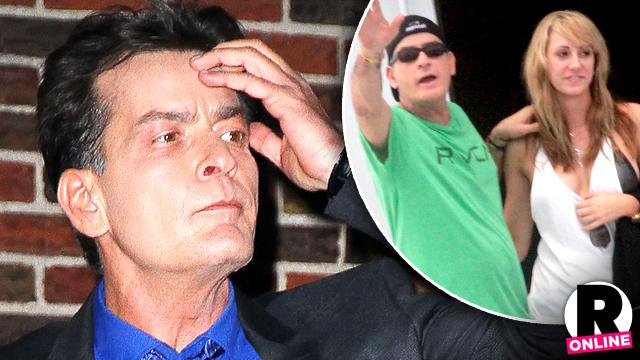 Charlie Sheen's former fiancée is revealing the horrific injuries she claims the former Two and a Half Men star inflicted on her during a series of brutal and bloody arguments.
Adult film star Scottine Rossi — who changed her name to Scottine Sheen — split suddenly from Sheen last October in a bitter breakup after a whirlwind 11 months of sharing his multi-million dollar mansion in Beverly Hills, Calif.
Article continues below advertisement
The harrowing truth about their romance has been kept hush-hush — until now — and includes appalling allegations that Sheen kicked his lover when she was pregnant, and later Sheen, 49, allegedly "strangled and choked" Rossi on multiple occasions, and made chilling threats to kill her.
"Do you want to live to see tomorrow?" serial batterer Sheen is said to have raged at Rossi, according to one witness who stepped forward to The National ENQUIRER.
Rossi, 25, is now threatening to slap the bad boy star with a multi-million dollar lawsuit, according to informed sources — unless he secures her silence with an out-of-court settlement.
Exclusive photos provided to The ENQUIRER will be presented as explosive evidence in Rossi's legal case, and the pictures show the aftermath of a violent knockdown, drag-out assault, said the insider.
In the alleged battering that occurred on May 31 last year, the horndog sitcom star is said to have throttled Rossi, leaving her with "bruising along her neck, a torn shirt and tears running down her face," according to the whistle-blower.
Article continues below advertisement
Rossi has "finally found the courage to hire a lawyer and plans to sue Sheen for the emotional distress she's suffered," said a Hollywood source.
"Charlie was both verbally and physically abusive to the point where Scottine would hide in the security room at his home, cowering in a ball, crying about his abusiveness."
"She'd also hide in guest rooms, crying for fear of her life," continued the Hollywood source.
According to another insider, the Hollywood hell-raiser, who has a shocking two-decade history of violence against women, blew up after his final appearance on The Tonight Show with Jay Leno.
"They were fighting on the way home about Scottine's ex-husband," said the insider. "They stopped at a friend's house and Charlie backed her into a corner, demanding her ex's number."
"When she refused to tell him, Charlie assaulted her," alleges the insider. "He threw a coffee table across the room. He then attacked her again as she was curled in a ball in the corner."
Article continues below advertisement
The ENQUIRER confronted Sheen's representatives with the astonishing allegations, and his team provided a vastly different version of events.
"Mr. Sheen never kicked Ms. Rossi when she was pregnant, never strangled and choked her and never made threats to kill her," his lawyer said.
What's more, a confidant close to Sheen said it was Rossi who attempted to assault the star on at least two occasions — "whilst she was extremely intoxicated and went into a jealous rage."
"Charlie was forced to restrain her on one occasion and he prevented her from hurting him or herself," the confidant added. "These allegations have only surfaced since Charlie started dating other women after their breakup. She is jealous. Friends have told Charlie that Scottine is his 'Fatal Attraction.'"
The porn star lived with Sheen until he called off their engagement in mid-October.
For more on this explosive story, pick up the latest issue of The National ENQUIRER, on newsstands now.