Leah Remini Claims Sharon Osbourne Called Her a 'Loser' From A 'Low-Life Mafia Family'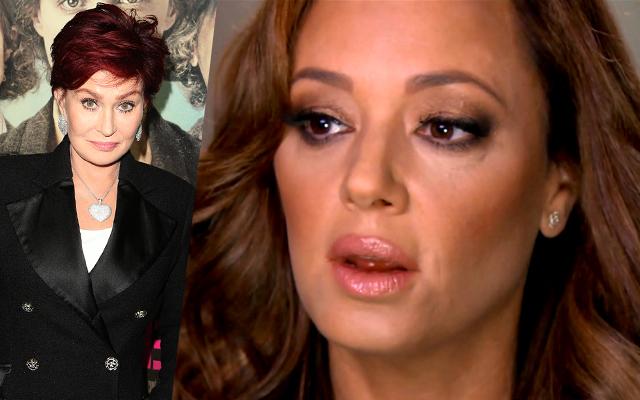 Tom Cruise, Katie Holmes and Kirstie Alley weren't Leah Remini's only targets in her juicy upcoming tell-all, Troublemaker.
The former Talk co-host also gabs about her tumultuous 2010 stint on the CBS show— and her feud with costar Sharon Osbourne, RadarOnline.com can exclusively reveal.
Though the two women initially got along, the King of Queens actress, 45, says she began to take notice of the outspoken star's diva demands.
Article continues below advertisement
"Sharon started to rail against everything from the 8 a.m. planning meetings to the upfronts in New York, which she didn't want to attend because CBS was giving her only one first class ticket and a coach ticket," Remini writes. "If she was going to attend the presentations…Sharon had to bring along her whole crew (hair, makeup, etc.)"
Remini claims Osbourne, 63, became so enraged by the network's hotel arrangements during the press event, she threatened to quit.
Despite the outbursts, Remini insists she had her difficult friend's back.
"I spoke to co-host and CBS producer Julie Chen and persuaded her to give Sharon due respect, let her skip meetings, take days off, make her feel important," she recalls.
One evening before meeting a new executive producer at the Beverly Hills Hotel's Polo Lounge in L.A., Remini says she wrote her costars an uplifting email to boost morale.
Article continues below advertisement
About five minutes into the meeting, Osbourne suddenly went on the attack.
"Who do you think you are, sending an email like that to everybody?" Osbourne said, according to Remini. "Sending that positive email when you're the most negative person on the show."
Remini says she defended her behind-the-scenes criticism, claiming she just cared about the show.
"The only reason you care is because you're a loser, and you have nothing else going on in your life," she says Osbourne snapped.
"Honestly Sharon, it would be in your best interested to just back it down," Remini claims she replied.
"Or what? Or you're going to get your low-life Mafia family after me?" Osbourne allegedly responded to the part Italian Brooklyn native.
Some friends: Remini claims only Holly Robinson Peete followed her outside to console her following the attack.
Months later, Remini was told she would not be returning to The Talk.
Osbourne is still co-hosting the talk show with fellow originals Chen and Sara Gilbert.
As Radar previously reported, ex-Scientologist Remini also slams Cruise and Holmes for their "calculating" Scientology-planned wedding and inept parenting skills, and Alley, whom she accuses of trying to ban her from Dancing With the Stars.