Radio Icon's Daughter Emily 'Embarrassed' Over Her Past Jabs At Dad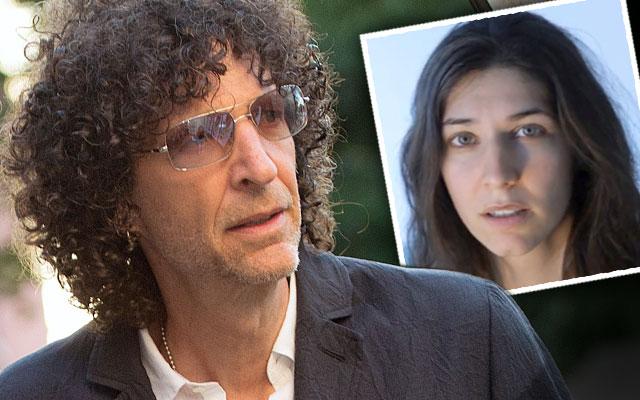 Howard Stern's daughter Emily said she was "embarrassed" over an interview she gave that painted her father in an unflattering light, and abruptly cancelled an event she had planned on the heels of the family fiasco.
As RadarOnline.com previously reported, Emily, 32, raised eyebrows in a Nov. 8 chat with the NY Post in which she rattled off gripes about her King of All Media father.
Among them: that she was blindsided by father's 1999 break-up with her mother Alison Berns following more than 20 years of marriage; that he "used to be one way, and then he married a model," referring to his second wife, Beth Ostrosky; and that his raunchy radio schtick stunted her dating life.
Article continues below advertisement
"It's rare I go on dates," the "Zoo Za Zoo" singer told the paper, noting that her "dad's emphasis on sexuality kept me out of the dating ring" in her younger years. (The Private Parts star was fast to question the accuracy of the report on his radio show, saying that both he and Emily thought the article wasn't "very reflective" of their "great relationship.")
On Tuesday, Emily was singing a different tune, claiming that she was confused about the purpose of the piece, and regrets how it came out.
"I thought I was being interviewed about my project," she wrote on her Facebook page. "I am embarrassed the article had the content it did. Please, friends, I ask you for your support in understanding and forgiving me."
Emily, who practices Orthodox Judaism, presumably thought that the piece would be focused on "Wells of Miriam," a photo exhibition that was slated for Thursday in Brooklyn, but since cancelled in the wake of the controversy. (The venue, the Hadas Gallery, said on Facebook that, "Due to logistics this show will take place at a later date.")
Article continues below advertisement
She wrote in the thread that the "show has been postponed" without giving further explanation, a course of action reminiscent of a 2005 fiasco in which she was set to appear naked onstage in an off-Broadway play called "Kabbalah," parodying Madonna's fondness for the Judaism-based discipline.
The show's organizer Tuvia Tenenbom complained to the NY Daily News that Emily quit the production with no notice after a meeting with her father.
Watch the video on RadarOnline.com (WARNING: Content Is Explicit)
Tenenbom told the paper in 2006, "She came back very shaken. She said, 'My father basically told me that if I take the role, that his enemies would buy blocks of tickets, throw garbage at my vagina, take nude pictures of me and put them all over the Internet.
"I told Emily, 'You have to stand up for yourself as a human being and as an individual, and separate from your father. Your father is a psycho. Your father is selfish."
In the Post piece earlier this month, Emily said that she bowed out after her famous last name was used to promote the show, against her previously-stated wishes.
"I told the director, 'Don't advertise who I am,'" she said. "He manipulated my love for the show for his gain."