Gwen's New Romance With Blake Could Derail Gavin Divorce Deal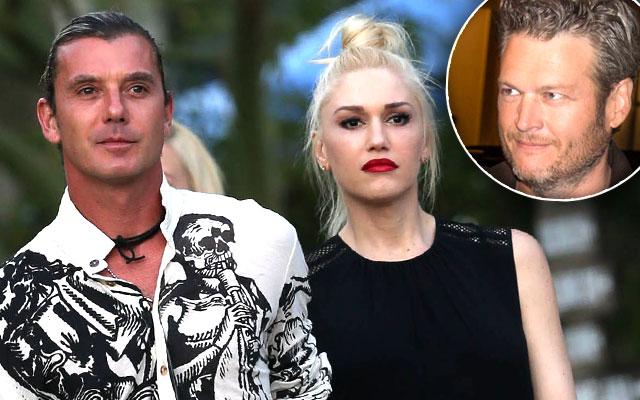 Gwen Stefani's head over heels into her new relationship with Blake Shelton, but RadarOnline.com has learned those close to The Voice star are warning her that she could be jeopardizing her divorce deal with ex Gavin Rossdale!
Rossdale and Stefani reached a divorce settlement last month, but a judge has yet to sign off on it — meaning Rossdale could still decide to back out.
"Gwen's camp is telling her to tone down the outings with Blake and flaunting the relationship on social media," an insider told RadarOnline.com. "Gwen is acting like a lovestruck teenager!"
Article continues below advertisement
For example, "It was Gwen's idea to release a statement confirming that she was dating Blake," the source explained. "Gwen's advisers were telling her not to do it because it just reeks of rubbing Gavin's nose in it, but she insisted and Blake went along."
One possible issue for Rossdale? "Gwen and Gavin have agreed on joint custody, but any parent would be concerned about who their ex is dating," the source said. "Gavin has had the kids this past week while she has been with Blake. It would be very easy for Gavin to attempt to get more custodial time with the kids in light of Blake being around. Gwen just needs to tone this down for the time being, but she isn't listening to anyone."
In the settlement recently reached, Stefani "agreed to give Gavin half of her net worth," an insider previously told RadarOnline.com. "In addition, Gavin was able to keep his own fortune. That wasn't even on the table as part of the settlement. So Gavin is now wealthier than Gwen, despite the fact that she is much more successful than he is in the professional world!"
As RadarOnline.com reported, Stefani, 46, and Shelton, 39, have been secretly spending time together away from The Voice set for weeks.
They've bonded over their mutual divorces — from Rossdale and Miranda Lambert — insiders said, and have also inspired each other to new professional success. They just announced they've recorded a country duet.
Do you think their relationship will last? Let us know in the comments!