Ex-'Goddess' Says Star Wouldn't 'Knowingly Putting Women At Risk'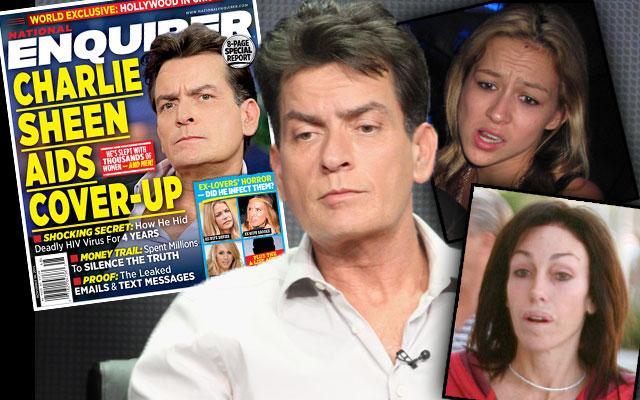 Article continues below advertisement
"That's not who he is," Kenly, 29, told People Tuesday. "He is not a monster — he has regard for human beings and cares about people."
Kenly, who now has a daughter and has relocated to the midwest, said that she can't see Sheen being completely reckless in his sexual encounters since 2011, the year he confirmed he learned of his status.
"He's got young kids — he's also not an idiot and I don't see him opening himself up to that legal nightmare," Kenly, who has tested negative for HIV, told the publication. "He's a good man and I feel very fortunate to have spent the time with him that I did, and I'm so sad to hear of his health troubles … I hope he's okay."
Heidi Fleiss, the one-time madam to-the-stars who counted the actor as one of her high-profile clients, pledged her support behind the actor while speaking with DailyMail.com.
"Now that his name is out there, I would want Charlie to be a role model for people with HIV; of all the people, he can show you can live with that and still have a good life," she said. "He can still do pretty much what he wants and be a good father to his kids."
Article continues below advertisement
Fleiss, who hasn't associated with the actor on a regular basis since 1995, said that Sheen "can be a role model to people with HIV," added, "I'd marry Charlie today even if he is HIV-positive. I love him!
"If I was with him right now I would ask him to marry me," she said. "Of course I would. I love the guy. We never had sex but I wish we had."
The embattled actor received support from scattered celebs Tuesday, including his former Spin City co-star Heather Locklear, and noted HIV-AIDS activist Lady Gaga.
Gaga posted to Instagram a shot of the TODAY interview, adding: "#BraveCharlie @btwfoundation, an opportunity for people all over the world to learn about modern HIV prevention, treatments, and emotional intelligence as it relates to the stigma of the virus."
https://instagram.com/p/-MN0vEpFPl/?taken-by=ladygaga
Lockelar said on the social media site, "My heart hurts," adding, "Prayers for Charlie and his family."