Leolah Brown Says Pat Houston Is Behind Fake Nurse Scandal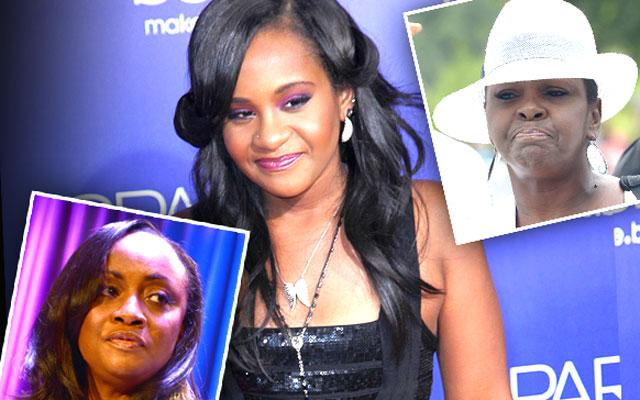 Leolah Brown, aunt of the the late Bobbi Kristina Brown, said she thinks Pat Houston was responsible for a fake nurse overseeing Bobbi Kristina's care at the Duluth, Ga. hospice she spent her final weeks in before her July 26 death at 22.
In a no-holds-barred rant on Facebook Friday, Leolah (who is Bobby Brown's sister) wrote that she was "not surprised" that the phony nurse — later identified as 32-year-old Taiwo Sobamowo — was proven to be a fraud, and that she believes Sobamowo was "was sent in by Mrs. so called Pat Houston, was found to be a fake!" (Pat is married to Whitney's brother Gary, and had an influential role in the late singer's business affairs; Leolah infamously caused a ruckus at Bobbi Kristina's funeral — shouting, "Whitney is rolling over in her grave, you are so wrong for this Pat!" — before she was escorted out of the service.)
Article continues below advertisement
"I believe Pat has also been a fake from day one," said Leolah, adding that she believes that "there is a connection between the two of these fake people."
She noted that Sobamowo "was from North Carolina and so is Pat," noting that the late "I Will Always Love You" singer "NEVER trusted Pat," and never employed her as her manager.
"That was one of the first lies she told right after Whitney was killed!" Leolah wrote in her post. "So, the question is; why did Pat lie about that? And what is her motive for doing so? Could it be to gain ALL of Whitney's estate? Trust me she's going for it!"
As RadarOnline.com previously reported, Sobamowo was arrested earlier this month in connection with forgery, identity fraud and nursing without a license for her time at the Peachtree Christian Hospice, and had been in trouble for similar offenses before, according to authorities.
Leolah, who has past publicly blamed Bobbi Kristina's boyfriend Nick Gordon for her niece's tragic end, has been arguably the family's most outspoken member amid the tragic past four years. After Whitney Houston's death, Leolah also publicly called out Ray J, claiming he gave the Grammy-winning beauty drugs. "Why is he hiding his face? He's always trying to show his face when he's with Whitney," she said, speaking to Dr. Drew. "Why now? Why you trying to hide, Ray J?"