Fashion Feud! Tim Gunn Slams Anna Wintour Over Their 'Hostile' Relationship, Blames Her 'Bad Behavior'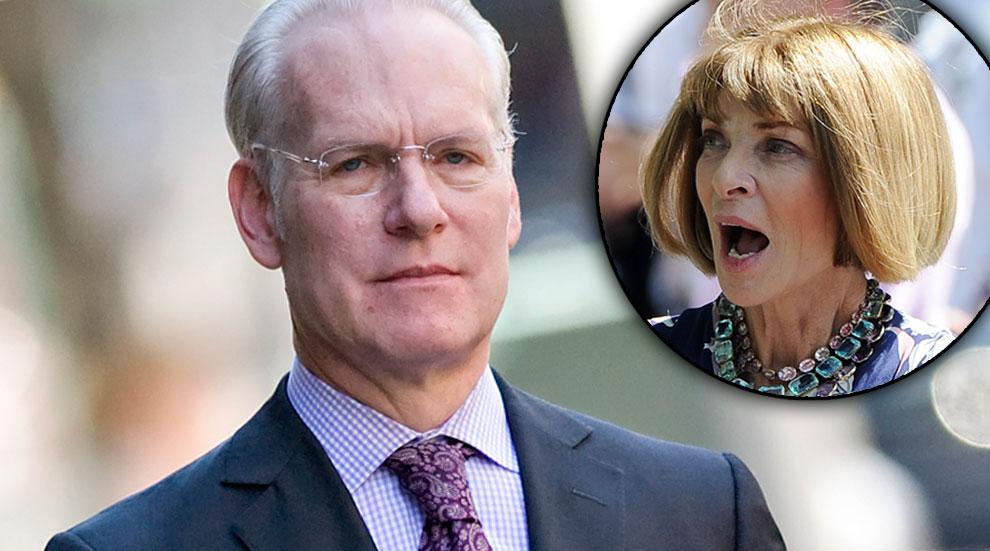 Tim Gunn is bringing out the big guns – get it? – over his ongoing feud with fashion mogul Anna Wintour – and things just got even sourer.
Gunn appeared on the Meredith Vieira Show Wednesday and it didn't take long for him to dish on his Vogue editor rival.
"I just will say that when people misbehave around me I call them out on their bad behavior," he told Vieira.
"There is so much that happens at that unique publication that is so of another world and another planet," the Project Runway mentor continued. "I'm happy to have a bad relationship with it because I wouldn't want to have a good one."
Article continues below advertisement
Watch the Video on RadarOnline:
When Vieira asked what their relationship is like these days, Gunn didn't miss a beat.
"It's hostile," Gunn shared, saying that he has no intentions of burying the hatchet anytime soon. "May I also add that I have huge respect and regard for Ms. Wintour's charitable work. It's wonderful and my hat's off to her but I just wish that she navigated the world with a little more respect for other people."
Gunn described a run-in with Wintour that is one of the many experiences behind his distaste for the woman.
Watch the Video on RadarOnline:
"I was on an airplane with Anna Wintour and the flight attendant came up to me and said, 'Is that Anna Wintour?' And I said, 'Yes. It is,'" he explained. "She asked, 'Do you think I can say hello to her?' I said, 'Well of course. Who wouldn't want you to greet them? That would be lovely.'"
"She went over and this man next to Anna Wintour, she was seated at the window and he was at the aisle, rose as she rose her own hand up as a gesture of, this is now an international incident and the man said to her, 'You have to go away, Miss,'" Gunn revealed. "So she wouldn't even allow her to lean and say, 'Ms. Wintour it's so lovely to have you on the plane.' I don't understand it."
"She can try to turn me to stone," he concluded, comparing Wintour to Greek mythology figure Medusa. "I don't think it will happen."