Exclusive
Crowning A Fashion Queen! Anna Wintour Wants Kate Middleton For September Issue Of 'Vogue'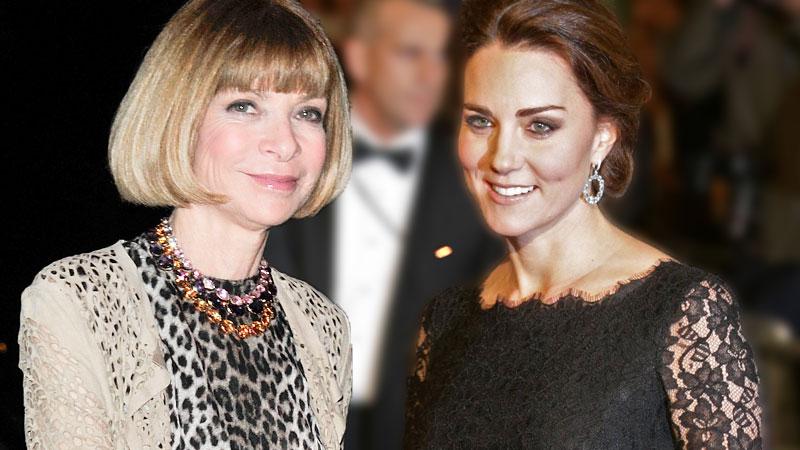 Even though New York City is still trapped in the middle of a brutal winter, at the Vogue offices, planning for the infamous September issue is already under way. Who will be the lucky cover girl? RadarOnline.com can reveal that Anna Wintour hopes the Duchess of Cambridge, Kate Middleton, will agree to appear in the coveted issue — and she's using all of her connections to convince Prince William's wife to say yes!
Article continues below advertisement
"Anna knows landing Kate for the September issue would be a huge coup, especially since Prince William's wife has never done a magazine feature for a U.S. Publication," a Vogue insider told Radar. "The focus of Kate's feature would be her numerous charity endeavors, which Anna has conveyed to Kate's staff."
"In the digital age, there is even more pressure to deliver huge sales numbers," the source said, and a Middleton cover could be just the trick.
What's more, "Since Anna is British, she feels a kinship with Kate, and has promised she would have full control over the accompanying photo shoot," the insider revealed. "Kate could choose the photographer, journalist, and location for the piece."
"Anna has been trying for the last two years to get Kate to agree and she's always refused," said the source. "But this time, Anna has stepped up the campaign, and is now enlisting her numerous high powered connections."
Article continues below advertisement
"Having Kate on the cover could silence all of the critics who were up in arms after Kim and Kanye appeared on the cover. Anna was very well aware that putting a reality star on the cover would alienate some diehard Vogue readers," the insider added.
Indeed, it was a shocking decision for Wintour to put the controversial rapper and sex tape star on the the April cover last year. Ultimately, the issue was a bust, selling fewer than 300,000 copies and sparking widespread criticism.
Actress Sarah Michelle Gellar was so disgusted by the decision, she claimed she was canceling her Vogue subscription.
"Well……I guess I'm canceling my Vogue subscription. Who is with me???" the actress tweeted after the magazine went on sale.
That got a snide retweet from Kardashian's best pal, Jonathan Cheban, who wrote "Do u matter?" to his 519,000 followers.
Wintour conceded to the pressure of selling magazines, and admitted "I think if we just remain deeply tasteful and put deeply tasteful people on the cover, it would be a rather boring magazine."
Meanwhile, The Devil Wears Prada inspiration hopes to have tea with Kate "in the next few months when Anna is in London. She isn't used to being told no and is determined to get Kate to agree," the source added.