O'Donnell's Daughter Chelsea Back With Birth Mom After 18 Years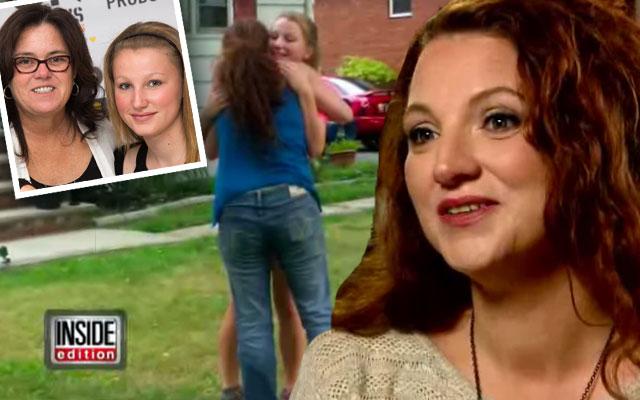 Monster mom Rosie O'Donnell's strained relationship with her adopted daughter Chelsea is about to get even worse!
In September, Chelsea reunited with her biological mother Deanna Micoley for the first time ever and their touching reunion was captured on camera by Inside Edition.
Now, one month later, Micoley tells the outlet, "I've always wanted her and I am just so happy that she is part of my life now. I love you and I am so glad that you found me."
Article continues below advertisement
Chelsea said she initially reached out to Micoley on Facebook last year, but because she was not an adult at the time she was prevented from seeing her.
In August, when the young girl went missing, her loud-mouthed comedian mother posted a frantic message on her social media and her daughter – who was only 17 at the time— was eventually found her at the home of convicted drug dealer Steven Scheerer in Barnegat, New Jersey.
After Chelsea turned 18 years old last month, Micoley drove from her home in Wisconsin to pick her up. Chelsea stayed at her biological mother's home for less than a week.
To show what kind of mother Rosie really is, Micoley shared a text message with the outlet that read: "She stayed 6 days - Bravo u."
Since Chelsea left Wisconsin she has been staying at her boyfriend's house in New Jersey. Although she has not had any communication with her biological mother since her stay there, Micoley says in the interview that airs tonight, "She is part of my family. She will always be part of my family and my door will always be open to her."
Article continues below advertisement
"I just want to be a part of her life. I want to see her walk down the aisle. I want to be there at her wedding. I want to be there when she has her first baby. I just want to be her mom."
As RadarOnline.com reported, Rosie and her wife at the time, Kelli Carpenter, adopted Chelsea in 1997. Although Micoley claims that the adoption was not legal because she was drugged by Chelsea's biological father, Rosie continues to take the stance that the adoption was totally legal and that she did nothing wrong.
Watch Deanna Micoley's moving interview here: