Taking A Stand! Vicki Gunvalson Slams The 'Wives For Gossiping About Boyfriend Brooks Ayers' Health: 'This Is Satan's Work'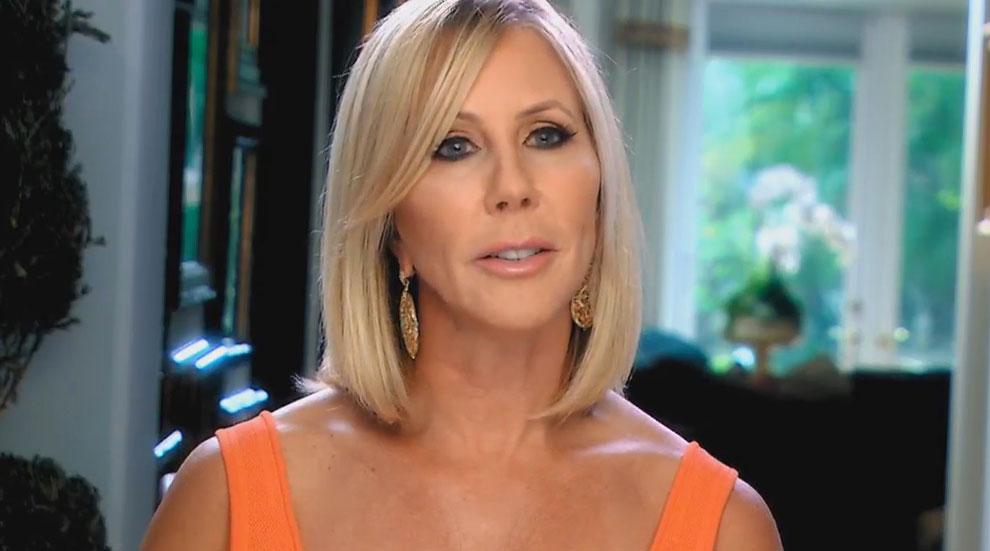 The Real Housewives of Orange County are circling in on the truth this week, and they're sure to end season 10 with a bang.
Vicki Gunvalson's daughter Briana and her family come into town for a visit, but the 28-year-old soon expresses her discomfort over Vicki's beau Brooks Ayers living in the house.
"Since Brooks moved into the house with my mom, it feels heavy and uncomfortable," she whispers to her husband when Vicki's in the next room. "There's a nasty feeling when you walk through the door."
Article continues below advertisement
Her husband replies, "I'd rather be in a hotel," despite the fact that Brooks is out of town for their visit.
Meanwhile, Shannon Beador and husband David invite their marriage counselor Tina into their home for a relationship check-in.
"What I'm proud of is that you didn't run," Tina congratulates the couple on their progress. "Shannon, I can see a remarkable difference in you."
Shannon answers happily, "In the last couple weeks, I've had days go by where I don't think about the affair."
But things get tough when Shannon reveals David's infidelity for the first time to pals Tamra Judge and Heather Dubrow over lunch.
"I don't want to get emotional but sitting here with you guys ... I feel so bonded to the both of you," she shares before relaying the details of David's affair.
Though Tamra and Heather admit having previous knowledge of the affair, they insist that they haven't told anyone and feel honored that Shannon has confided in them.
Article continues below advertisement
"Knowing that they have not brought up these rumors shows me even more that they're true friends," she says in confessional, lamenting her now broken friendship with Vicki.
Watch the Video on RadarOnline
That same week, during another lunch date, Tamra and Briana discuss Vicki's relationship with Brooks.
"I've tried to let it go," Briana sighs before sharing that her mom's allegiance to Brooks has strained their family dynamic immensely.
"I think Vicki's delusional," Tamra concludes in confessional. "There's a part of me that wants to support her and part of me that wants to question her."
When Tamra then shares that the girls are suspicious of Brooks "duping" Vicki with fake cancer, it's the last straw for Briana.
"I'll kill him, I'll kill him myself," she sighs into her lunch.
Watch the Video on RadarOnline
As the episode winds down, Tamra prepares to be baptized, admitting that her jitters feel like wedding day nerves. But the reality star's big day may be ruined thanks to a fired-up Vicki.
"Why is everyone saying he doesn't have cancer?" Vicki's brother Billy asks on the way to the baptism.
"The truth is always the truth," Vicki replies plainly, dissing her costars for meddling in Brooks' affairs. "Satan loves confusion. This is Satan's work."
Watch the Video on RadarOnline
Will this baptism have a happy ending? Tune in to the season finale next week to find out!
The Real Housewives of Orange County airs Mondays at 9/8c on Bravo.